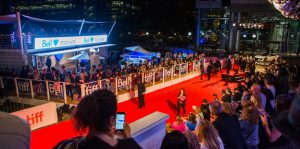 The Film Threat team descended upon the digital and physical icy tundra of Toronto, Ontario of the Great White North, in September 2021. Film Threat fought to bring you reviews from the 2021 Toronto International Film Festival with our own Andy Howell is on the ground in Toronto and Alan Ng in the hot Southern California weather.
Alan Ng
Years attending Sundance: First-Time Virtual Attendee.
TIFF 2021 Films Seen: Attica, Encounter, Hellbound, Montana Story, Mothering Sunday, One Second, Sundown, The Electrical Life of Louis Wain, The Good House, The Starling, True Things
Fave TIFF 2021 Film: Not quite a film, but I can't stop thinking about Hellbound. It's the next Walking Dead.
Andy Howell
Years attending TIFF: Almost 15 years and represented Film Threat the last five years.
Sundance 2021 Films Seen: A Hero, Attica, Compartment No. 6, Dionne Warwick: Don't Make Me Over, Hold Your Fire, Mothering Sunday, The Guilty, The Power of the Dog, The Rescue, The Starling
Fave Sundance 2021 Film: As an avid diver, the natural choice was The Rescue.
More TIFF Reviews from Film Threat's Remote Team Coverage
Here's the review round-up from our remote team who was unable to join us in Toronto, but were there in spirit.
Alex Saveliev: The Mad Women's Ball
Bobby LePire: Lo Invisible
Bradley Gibson: Dashcam, The Devil's Driver
Kyle Bain: Silent Land
Matt Passantino: Julia
Michael Talbot-Haynes: Drunken Birds
Nick Rocco Scalia: Terrorizers
Sabina Dana-Plasse: The Odd-Job Men
Swapnil Dhruv Bose: Zalava
Enjoy this playlist of Film Threat's 2021 TIFF coverage on YouTube.