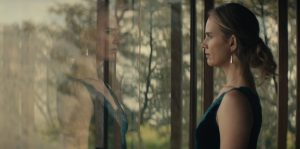 TORONTO INTERNATIONAL FILM FESTIVAL 2021 REVIEW! Lo Invisible (Unseen), directed by Javier Andrade and co-written by him and star Anahí Hoeneisen, begins with Luisa (Hoeneisen) returning home after an extended stay at a psychiatric facility due to severe post-partum depression and accusations of harming her newborn. While her family is happy to see her, Luisa feels confined by the amenities and extravagances of her modern house and by how the housekeepers never let her even so much as hold the baby.
Andrade and Hoeneisen have written a film that is light on dialogue but heavy on emotions and beauty. The first ten minutes have only one or two lines of dialogue. Instead, the filmmaker immerses viewers into the setting of the house and its surrounding woodlands. This quiet, subtle, thoroughly engrossing style is maintained throughout the runtime, and it works wonders. Instead of spoon-feeding audiences about how the main character feels, the director wisely chooses to let viewers experience it. A particularly memorable scene comes after Luisa's been running, perhaps her only solace, but she strains herself and is helped into the car following her. The body language and framing adds an erotic charge to proceedings that are both unexpected and intense.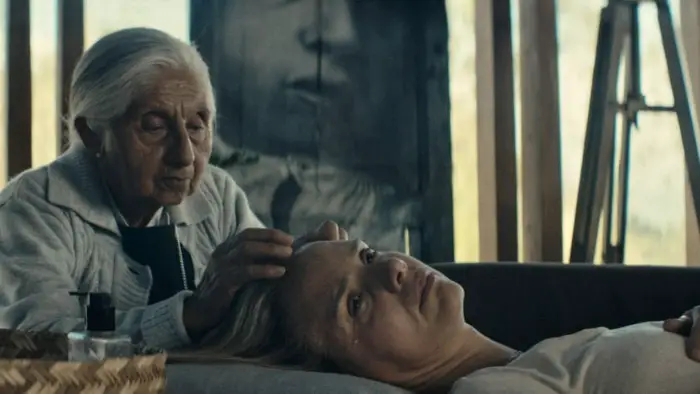 "…returning home after an extended stay at a psychiatric facility due to severe post-partum depression…"
That isn't to imply the dialogue throughout Lo Invisible doesn't contribute anything, as when lines are exchanged, they truly mean something. Though, admittedly, the significance of a song being sung near the end of the film gets lost in translation. The elegiac mood is still properly conveyed, but if the music is intended to have a deeper well to it, it is not clear. However, that is a relatively minor stumbling block, as the atmosphere is tightly controlled and unflinching in just about every other respect.
According to IMDb, Hoeneisen only has four acting credits, including Lo Invisible. Whether that is entirely accurate or not, she delivers an electrifying performance that puts the slow descent into madness at the forefront. While what Luisa did (maybe) is horrific, viewers still empathize and root for her at every turn. When she's trying to quiet her baby, and the maid is talking her into handing over the newborn, it is a tense tightrope of anticipation, waiting to see what Luisa will do. It's a dynamic performance bolstered by the wonderful supporting players.
Lo Invisible effectively brings a traumatizing and harrowing ordeal to life in a humane, understated way. The focus on mood and setting over dialogue envelops those watching, allowing them to feel every heavy emotion on display. And it is all brought to life by Hoeneisen, who is vulnerable and distant at the same time.
Lo Invisible screened at the 2021 Toronto International Film Festival.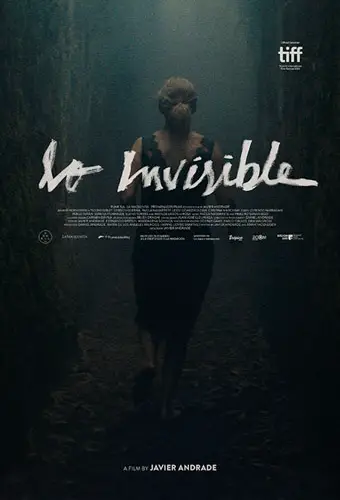 "…tightly controlled and unflinching..."