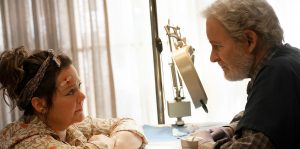 TORONTO INTERNATIONAL FILM FESTIVAL 2021 REVIEW! In The Starling, Melissa McCarthy reteams with Chris O'Dowd as a couple who has lost a child and has a hard time in the aftermath. Jack (O'Dowd) is in a mental institution, while Lilly (McCarthy) tries to move on by planting a garden, only to be tormented by a pernicious starling. After some rough spots with her manager at the grocery store (Timothy Olyphant), Lilly eventually seeks help from a former psychiatrist, now veterinarian, Larry Fine (Kevin Kline), and not the Three Stooges one.
The comedic drama is directed by Theodore Melfi, whose first feature was the outstanding St. Vincent, which also starred McCarthy, along with nation treasure Bill Murray. His next was Hidden Figures, which was as important to my day job of astrophysics as it was entertaining. So I had high hopes for The Starling, featuring another Melfi-McCarthy team-up and a rare appearance of another national treasure, Kevin Kline.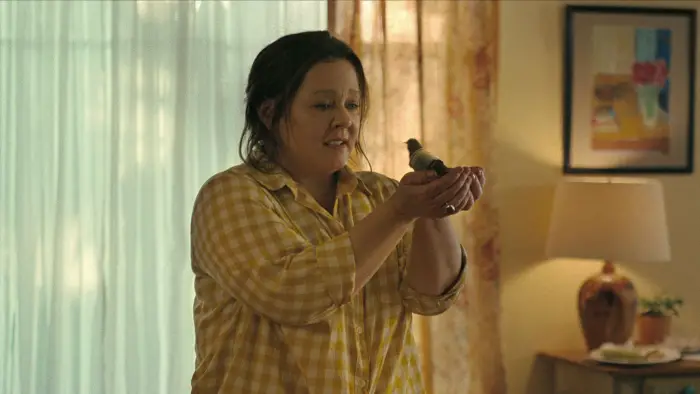 "…a couple who has lost a child and are having a hard time in the aftermath."
Tonally The Starling is in an odd but interesting place. After a prologue, the film is set a year after the couple has lost their child. We're spared the heavy grieving, and everyone is acting like they're fine, although their actions indicate otherwise. There are plenty of moments of levity, even comedy, though not in an over-the-top Bridesmaids kind of way. I say it is odd tonally because it would be inappropriate for this to be a full-on child death comedy. Yet, it isn't trying to dwell continuously on the heaviness of the tragedy or the unjust state of affairs either. The middle ground seems correct for the real-life version of grieving one year on, where so much is about the mundane joylessness of everything, punctuated by fits of transferred emotion. In that sense, the script by Matt Harris and the performances by the major players get it right.
McCarthy is great, as always, at finding that perfect blend of humanity and comedy, where it doesn't have to feel like she's choosing one or the other. It is the rare breed of actor equally at home with comedy and drama — I'm thinking Bill Murray, Robin Williams, and McCarthy's costar here, Kevin Kline. You may argue whether or not she belongs in that territory, but I argue she does. She has the rarified distinction of being Oscar-nominated for both comedic and dramatic roles, which not all of the above have. I've already seen her star with Murray, and sadly, Robin Williams is out of the picture, so I was absolutely thrilled to see her acting against Kevin Kline.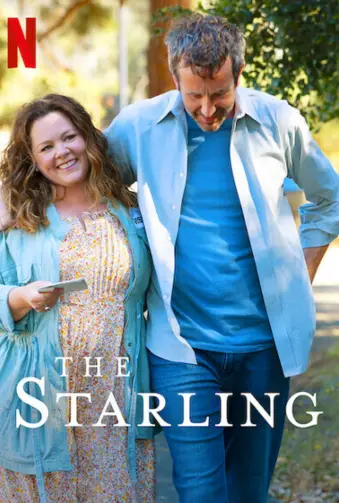 "…trying to be a feel-good movie about finding hope in dark times."