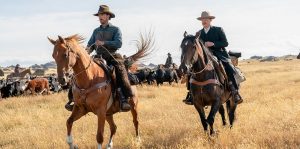 NEW TO NETFLIX! The attraction for many viewers of The Power of the Dog may be the prospect of seeing Benedict Cumberbatch as another lovable a*****e — this time in cowboy form! But what writer/director Jane Campion delivers is an anti-western and a searing takedown of toxic masculinity.
Benedict Cumberbatch and Jesse Plemons play Phil and George Burbank, a pair of ranchers in 1925 Montana. Plemons' George is kind-hearted and easy-going, but we get the sense that he's fed up with his rough, caustic, domineering brother Phil. When the duo and their band of cowboys stop at an inn during a cattle drive, things take a turn when Phil relentlessly mocks the young waiter, Peter (Kodi Smit-McPhee), for being too effeminate. This drives Peter's mother, Rose (Kirsten Dunst), who runs the restaurant, to tears.
George tries to comfort her, which in short order leads to marriage. Rose moves into the brothers' estate, while Peter goes off to medical school. The savage Phil constantly torments Rose, driving her to drink, which only devalues her farther in his eyes. But when Peter comes back to visit, Phil has a surprising change of heart towards him and takes the boy under his wing.
You may think you can map out the rest of The Power of the Dog from there, but rest assured, there are plenty of surprises I won't spoil. This is an anti-Western, but not quite in a way we've seen before. For a start, it isn't entirely male-focused. Rose is the weakest character — she's essentially a foil to the dominant Phil. After the film, I got into a long discussion with a friend about who the protagonist and antagonist were. We couldn't agree because the film departs so thoroughly from narrative convention while at the same time coming to a satisfying and artistically relevant conclusion.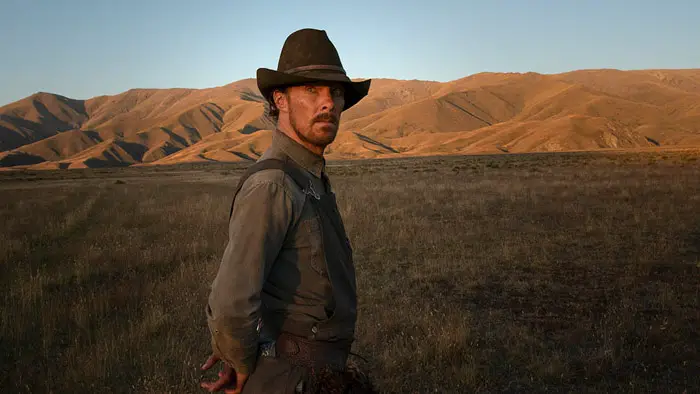 "…Phil constantly torments Rose, driving her to drink…"
I'm delighted to see Dunst trying to extend her range into slightly older characters, and she has the bravery to look realistically put-upon and weary here. Still, her performance is the weakest in a strong cast. Plemons is good, as always, though he disappears in the middle, so he doesn't have much to do. Cumberbatch is strong as the not-so-lovable a*****e, but he's such a familiar face that I never bought him as a cowboy. The real shining star is Smit-McPhee as the lanky, seemingly delicate Peter. He's outstanding as a fish out of water who has to adapt to survive in a place hostile to his sensibilities.
Other strong points of The Power of the Dog include Ari Wegner's cinematography, which is beautiful, never flashy, always in service of the story. The script, based on Thomas Savage's novel, is economical, nuanced, and superb. At times you wonder where some of the scenes are going, but they all tie together wonderfully. The score by Jonny Greenwood (of Radiohead) is equally well done — unobtrusive but unsettling when it needs to be.
Not everything is executed perfectly. For example, there's a scene meant to reveal a deeper, hidden side of Phil that almost made me laugh out loud because it was so uncharacteristically nuance-free. Also, a couple of characters we're invested in disappear for long stretches of time, as if the filmmaker forgot they exist.
The closest comparison to The Power of the Dog may be There Will Be Blood. Both are early 20th century portraits of men unraveling from their own mental straitjackets and feature a Jonny Greenwood score. While this is not quite as epic or iconic as Paul Thomas Anderson's classic, it deserves to be judged on its own merits. It is a worthy return by Jane Campion and a thoroughly relevant film to our modern discourse. After seeing it yesterday, I was somewhat lukewarm on it. But I can't stop thinking about it.
The Power of the Dog screened at the 2021 Toronto International Film Festival, the 2021 San Diego International Film Festival, the 2021 Newport Beach Film Festival, and the 2021 AFI Fest.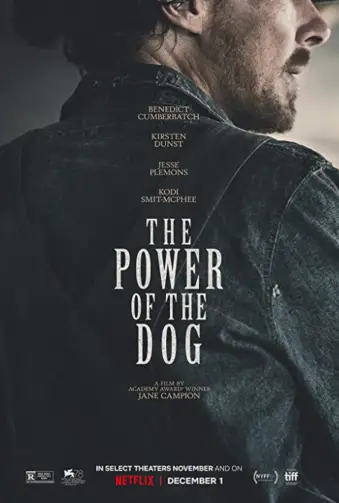 "…this is an anti-Western, but not quite in a way we've seen before."