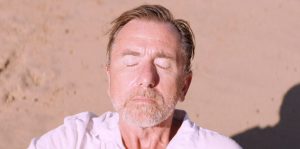 NEW TO THEATERS! Honestly, he seems like a nice guy, but Tim Roth is so good at playing dirtbags. In Michel Franco's feature film, Sundown, Roth plays Neil Bennett, a dirtbag but a more detached, narcissistic one.
The film opens with Neil, his sister Allison (Charlotte Gainsbourg), and her two kids on vacation in Acapulco. The vacation abruptly ends when Neil and Allison receive news that their mother is dying. While at customs screening, Neil discovers that he left his passport at the hotel and tells his family to get on the plane and he'll grab the next flight. Instead, Neil checks into a seedy motel and relaxes at the beach.
At this point, Neil has decided to check out on life and spend the rest of his days in Mexico with his new girlfriend, Berenice (Iazua Larios). At first, he reassures his sister that he's attempting to get a new passport from the British consulate, but then he just stops answering her phone calls.
"Instead, Neil checks into a seedy motel and relaxes at the beach."
The best way to describe Sundown is it's the story of a guy who just doesn't care anymore and is perfectly content living off his family fortune for the rest of his life. He checks out on his family, the family businesses, and cuts ties with everyone and everything. The film is essentially a character study of this solitary man, and the crazy part is we know people like this.
Tim Roth is great as Neil. But, how much of a challenge is this role to a brilliant actor? Along with amazing acting is a story that will not allow Neil to go off-grid both physically and emotionally completely. He is forced to take responsibility for his family and their lucrative business. Then the complications of living in Mexico have their own ups-and-down, like interaction with the cartel… which is not as thrilling as you'd think it is… Neil even takes a laid-back approach with that.
The film's tone is so laid back — maybe more distant — the camera just sits there, and we watch Neil squander his life away like a fly on the wall. The distance of the camera makes us emotionally distant from Neil, which is the point. I'm just watching this guy like a fish in an aquarium, and I sat there for hours watching him with utter fascination. If anything I said sounds interesting, then check out Sundown. I get that it might not be everyone's cup of tea, but I sure had fun.
Sundown screened at the 2021 Toronto International Film Festival and the 2021 AFI Fest.