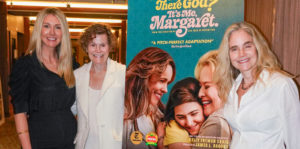 NEWPORT BEACH, CA – As the sun set over Newport Beach yesterday, the glitz and glamour of the 2023 Newport Beach Film Festival (NBFF) illuminated the city with an array of captivating events and star-studded appearances.
The day kicked off at the Main Stage at Fashion Island, drawing a significant crowd eager to delve into a live discussion of the film adaptation of Are You There God? It's Me Margaret. The iconic novel, a rite of passage for many young readers, recently made its journey to the silver screen. Fans of the book and film were treated to insights from none other than the legendary author herself, Judy Blume. Accompanying her on stage were the film's talented director and writer, Kelly Fremon Craig, and producer Julie Ansell. The trio shared behind-the-scenes anecdotes, the challenges and rewards of adapting such a beloved novel, and their personal connections to the story.
Following the enlightening discussion, attendees were treated to a screening of the film, after which Judy Blume graciously participated in an interactive Q&A session. Fans seized the opportunity to ask the celebrated author questions about the novel's enduring legacy and its transition to the big screen.
But the excitement didn't stop there. The festival continued with a screening of the compelling drama In the Name of the Father. Renowned director Jim Sheridan graced the audience with his presence for a post-screening Q&A, discussing the making of the film and answering keen questions from the audience.
Later in the evening, director Brian Helgeland took to the stage following a screening of his gripping film Finestkind, engaging the audience in another round of Q&A. His candid responses provided a deeper understanding of the filmmaking process and the inspirations behind his work.
The crowning event of the evening was the screening of Todd Hayne's latest cinematic venture, May December. The NBFF honored Haynes for his exceptional contributions to the world of cinema by presenting him with the Outstanding Achievement in Directing award. This recognition served as a testament to Hayne's unique vision and his ability to craft stories that resonate deeply with audiences.
As attendees left the venue, the buzz of conversations and excitement echoed throughout Fashion Island, marking another memorable day at the Newport Beach Film Festival. With more events lined up, the 2023 NBFF promises to be an unforgettable experience for film enthusiasts and industry professionals alike.
For more information on upcoming events and screenings, visit the Newport Beach Film Festival's official website.