NEWPORT BEACH FILM FESTIVAL 2023 REVIEW! In the early 2000s, I was entering my teenage years and was the prime demographic for the boom of quirky teen dramedies that flooded the indie movie rental market at that time. Before the streaming phenomenon of the late 2010s, video rental stores were where I first experienced "hipster" classics like Garden State, Napoleon Dynamite, and Scott Pilgrim vs. The World. After only a few minutes into Egghead & Twinkie, I was immediately reminded of those titles. Written and directed by Sarah Kambe Holland, the film's a coming-of-age, road trip, teen dramedy cocktail with a modern social media and LGBTQ+ splash.
The movie follows two best friends as they reflect on the events of a road trip, each from their perspective. The title comes from the nicknames that they prefer to go by. Twinkie (Sabrina Jieafa) chose her nickname as a tongue-in-cheek reference to her racial and cultural identities: Chinese on the outside and "white" on the inside. Egghead (Louis Tomeo) derives his name from a spin on insults he received for being smart. Twinkie and Egghead have been best friends since childhood, sharing a love of anime, and currently work at the same job.
After coming out to her parents as lesbian, Twinkie is on a journey of self-discovery. A blossoming relationship over Instagram leads to the two titular characters embarking on a cross-country road trip deep into the heart of Texas without their parents' knowledge. After some convincing and a bit of misleading information, Egghead agrees to join Twinkie. Along the way, Twinkie is thrust into situations that cause her to question different aspects of her identity, including her sexual orientation, ethnicity, and the substance of her relationships. Egghead is the ever-supportive best friend along the way, sticking by Twinkie's side while she explores these questions.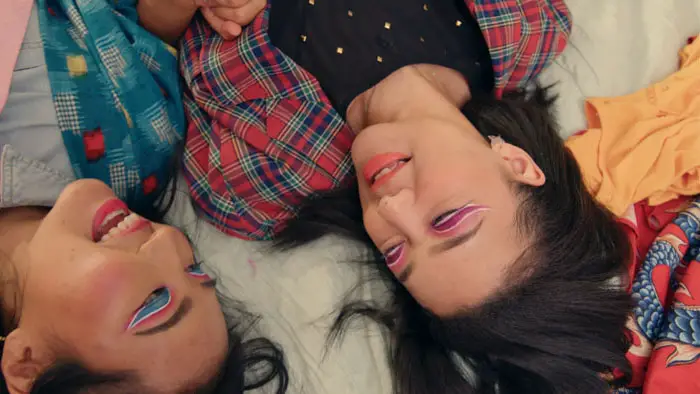 "…Twinkie is thrust into situations that cause her to question different aspects of her identity…"
Egghead & Twinkie is a fun time. Anime-style graphics are used throughout to punch up the action, emotion, or story moments. It is similar to the 1960s Batman series or Scott Pilgrim vs. The World. This added art style, stacked with the quick-paced editing cuts and sharp-witted dialogue, embraced me with a sense of nostalgia as I was reminded of those early 2000s hipster comedy flicks I grew up on.
While I am not the target audience for this film, it was an enjoyable watch for sure. The story is presented so honestly and genuinely that it made little difference that I'm well past my teenage dating years. Nor does the fact that I have little to no experience dating over social media impede the fun. Much like the movies I rented in my younger days, this speaks to a young audience who will undoubtedly find much of the subject matter to be very relatable in modern times.
While a micro-budget production, Egghead & Twinkie has a lot of polish for its size. Further impressing me, this film was crowdfunded through TikTok, hammering home that it was not only made for but also funded by the next generation of up-and-coming young people.
Egghead & Twinkie screened at the 2023 Frameline Film Festival, the 2023 Cinequest Film Festival, the 2023 Newport Beach Film Festival and the 2023 Austin Film Festival.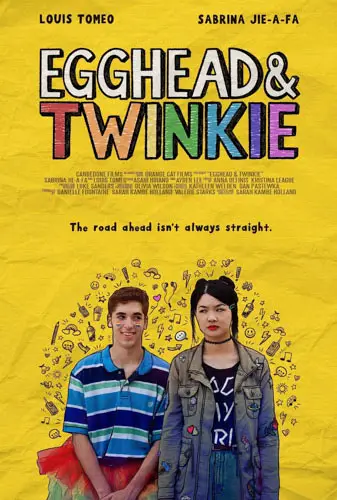 "…presented so honestly and genuinely..."