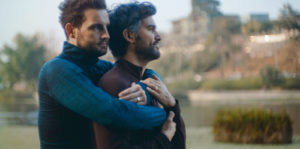 No family, or any relationship for that matter, is built the same. Our priorities and desires tend to change, and we may be expected to make life-altering decisions that shift the foundation of our relationships. In the delightfully crafted drama The Mattachine Family, director Andy Vallentine along with his husband, screenwriter Danny Vallentine, explores the essence of family and the sturdiness of relationships.
Over the span of a few minutes through a briskly edited montage, Thomas (Nico Tortorella), a middle-aged photographer, recalls the moment he knew he was gay, when he received his first camera, and the day his father died. This lively sequence is accomplished through voice-over concurring with photographs, in addition to characterizing Thomas as sweet-natured and endearingly loquacious.
Thomas then goes on to talk about his husband, Oscar (Juan Pablo Di Pace). Oscar was a famous child star who, after being outed, was pushed out of the industry. Thomas remembers meeting Oscar at a wedding and quickly falling in love. Oscar wanted to start a family, but Thomas wasn't as eager. Nevertheless, they agreed to take in a foster kid named Arthur. Thomas and Oscar loved him, but after Arthur's mother was released from prison, she regained custody. In the present, Thomas is mourning Arthur's departure while Oscar is out of state filming a show. Heartbroken by Arthur's departure and feeling suffocated by Oscar's acting career, Thomas begins contemplating fatherhood.
Tortorella is impressive as the central figure throughout The Mattachine Family. The actor possesses an undeniable charm and a comforting smile. Even during the emotional beats, he proficiently gives way to more mournful remarks and expressions, subtly revealing the hurt that still exists after losing Arthur. That said, the constant narration is too syrupy and turgid. After the opening sequence, viewers and Tortorella, could've done without the narration.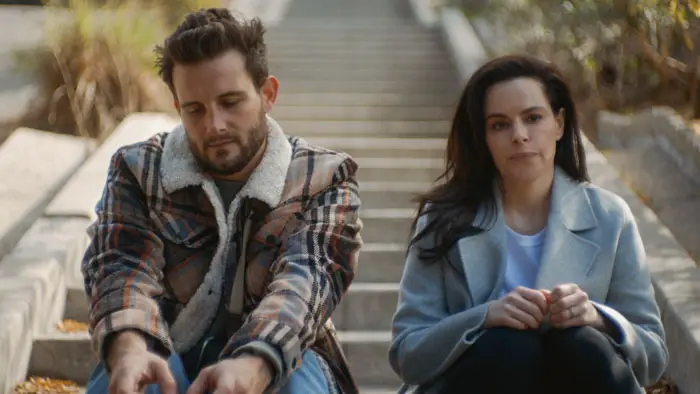 "…Thomas is mourning Arthur's departure while Oscar is out of state filming…"
In need of direction, Thomas gets advice from his friends, Leah (Emily Hampshire) and Sonia (Cloie Wyatt Taylor), a couple trying to get pregnant. Hampshire establishes a good repartee with Tortorella. Their friendship is immensely enjoyable. In fact, the lead has good chemistry with all the supporting characters, and no one is wasted.
If Thomas wasn't sure he wanted to be a father before, he is now. But just like how Thomas had a change of heart, so did Oscar, referencing his career as the primary reason why having a child is not the best idea. The conflict between the married couple is understandable, and both deserve happiness. By putting these people in a realistic predicament, the Vallentines provide critical insight into what happens when partners don't put in the work to understand each other's wants and needs and what happens when they do. Additionally, the fact that they had to say goodbye to Arthur influences how they behave now, consciously or subconsciously, which makes for compelling drama.
The title, The Mattachine Family, is inspired by the 1950s national gay rights organization, Mattachine Society. There's a scene of Thomas describing the organization's origins to Leah, but that's as far as the history lesson goes. The filmmakers know the kind of film they're making. Sure, lines here and there feel out of place, and characters arrive at their point of happiness too easily. But as far as the depiction of queer relationships goes, this delivers, showing how every relationship has stages of intense bliss, deep-seated intimacy, and conflict.
With The Mattachine Family, it's clear that the married filmmakers understand queer relationships and the challenges associated with parenting. And yet, despite focusing on the joys and hardships of love and family, the film retains a warm tone. Vallentine's drama is a pleasant gathering of friends and romantic partners as they share tender moments and form an unbreakable family.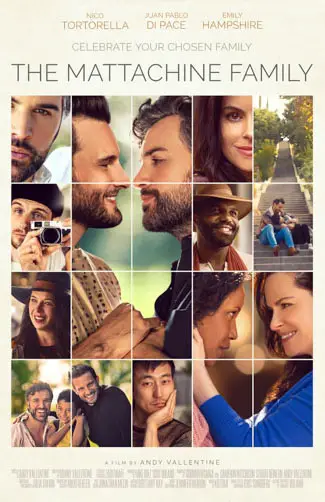 "…understand queer relationships and the challenges associated with parenting."