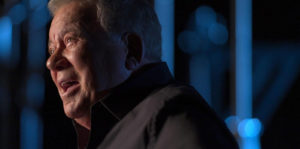 Whenever I hear William Shatner speak, I walk away feeling like I'm not doing enough with my life. Known for his role as Captain James T. Kirk, there has been an attempt outside of geek/nerd/Trekkie circles to unfairly diminish the impact and body of work of Mr. Shatner. Writer-director Alexandre O. Philippe's documentary, You Can Call Me Bill, from Legion M and Exhibit A Pictures, is very different. You'll walk away, realizing that Shatner has more important things to do than worry about his critics.
The film has some of the usual trappings of the typical documentary. We do walk through the life story of Shatner via a talking-head interview interwoven with scenes from his illustrious acting career. However, it is atypical in that the documentary is broken up into chapters that explore the themes that make up the subject. The film opens in the middle of a forest, and in voiceover, Shatner reflects on life… his life and its relationship with the outdoors and nature. Being an environmentalist, he finds himself inextricably entangled with nature's interconnectedness, which guides every next step of his journey.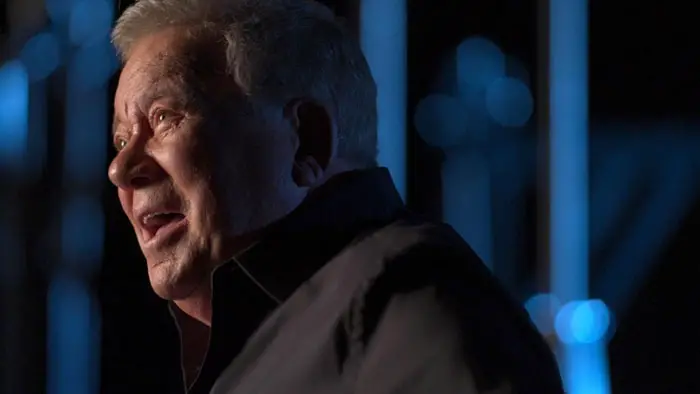 "…the life story of Shatner…"
I'll be honest. There is so much "Shat" packed in You Can Call Me Bill that it can be overwhelming (which explains the lateness of this review). Much like his one-man stage performances, Shatner is given several points in his life to reflect upon. So let me give you a few of my favorite highlights. Like everyone else in the world, our story starts at birth. Born in Montreal, Shatner was the son of Jewish immigrants. He speaks fondly of his youth but honestly about his relationship with his parents, who were strict and didn't necessarily want him to pursue a career in the arts.
Of course, much of the film reflects on Star Trek and its impact on his life professionally. He speaks about it from the viewpoint of an actor on the ride of a lifetime while skating the line of cancellation. Shatner discusses his specific style as a master thespian. He reflects on his style and how it spawns many interpretations and impressions among comedians. He doesn't tell many onset stories but more about how the show affected his life personally and professionally.