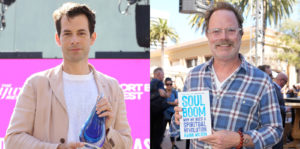 NEWPORT BEACH, CA – Yesterday, television and music enthusiasts converged on the Main Stage at Fashion Island for two standout events during the 2023 Newport Beach Film Festival (NBFF). Renowned for showcasing a mix of film, music, and literature, this year's festival lived up to the hype with appearances from Oscar-and-Grammy-winning songwriter/producer Mark Ronson and celebrated actor and author Rainn Wilson.
Mark Ronson, best known for his hits and recent work on the "Barbie" movie soundtrack, was the recipient of the prestigious NBFF's Outstanding Achievement in Music award. Before receiving the accolade, Ronson participated in a live taping of The Hollywood Reporter's "Awards Chatter" podcast, giving attendees a chance to delve deep into his illustrious music career, collaborations, and insights into today's music scene. The event, hosted by The Macallan at Fashion Island, was a rare opportunity for fans to gain a behind-the-scenes look at the music genius's process and learn about his experiences crafting the original score and songs for the Barbie movie.
Following the musical deep dive, the spotlight shifted to Rainn Wilson, popularly known for his role in "The Office." Wilson took center stage to discuss his New York Times Bestseller, "Soul Boom: Why We Need a Spiritual Revolution," published by Hachette Go. Moderated by Maria Hall-Brown, the "Author Talk" event, hosted by Fashion Island, explored the essence of Wilson's new book. Wilson candidly shared about the transformative power of spirituality in addressing world challenges and how a spiritual lens could lead to innovative solutions.
The NBFF continues to be a beacon of culture and entertainment, bringing together icons from various industries to share their stories, insights, and talents. As attendees left Fashion Island, there was palpable excitement in the air, indicative of another successful day at the Newport Beach Film Festival.
For more information about upcoming events at the 2023 NBFF, please visit Newport Beach Film Festival Website.