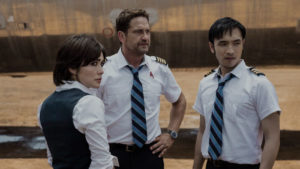 Plane was one of 2023's surprise hits. Starring Gerard Butler who tries to save his  unwanted passenger after being forced to make an emergency landing on a dangerous island, it grossed $74 million worldwide and received positive reviews overall. A sequel called Ship is planned but is it likely to be as successful as the original? And has Plane helped revive the airplane movie genre? Let's find out.
The Popularity of the Plane and Boat Themes
In terms of the different themes, both planes and boats have appeared in many movies over the years. Airplanes have generally been involved in tense action movies where there's an accident or the risk of an accident, such as Passenger 57, Executive Decision, and Con Air. This genre arguably began with the first Airport movies in the 1970s and reached their heyday at the turn of the century, with Plane signalling something of a comeback in 2023.
The idea of crashing planes has reached many other aspects of popular culture, including TV series like Blood Red Sky, which was released on Netflix in 2021. We've also seen games based on this genre, with one of the current examples being the Aviator Slot at Paddy Power, a betting game where the player has to decide when they think the plan will crash. The prize rises the longer the plane stays in the air but the game ends when it hits the ground. Players might engage with a game like this for the same reason that people watch films and documentaries about plane crashes. Much like the horror genre, something about the fear and the thrill that comes with a good scare keeps audiences coming back for more.
Future releases in this genre could include a second season of Hijack, the thriller on Apple TV+ featuring Idris Elba. It received positive reviews and Elba has confirmed that he's open to returning in the role of Sam Nelson, but Esquire has reported recently that no decision has yet been made by Apple on whether or not to order a second series. Meanwhile, NBC's Manifest, which is on Netflix, appears to have cancelled after running for four seasons.
Boat-themed movies have also tended to focus on disasters, with Titanic and The Perfect Storm being some of the most famous examples. As with movies set on planes, many of the best examples use the fact that a diverse set of characters are trapped in a relatively small space to explore the conflicts between them in a series of subplots. Therefore, both these types of movies are very similar and the new Ship film could easily follow the Plane plot closely if the writers decide to take this approach.
What Do We Know About Ship?
Few details have been released to date about the sequel to Plane and we don't know if Butler will be starring in it, with rumors that he might have just a minor, guest role. The plot will see Louis Gaspare, played by Mike Colter, return as the passenger who was being transported in the first movie. He's now trying to escape from the island by ship but sets sail on a ferry operated by a corrupt and dangerous captain that he has to overthrow.
Ship is expected to reach the production stage by the end of 2023 and it may also be later this year or early in 2024 before we hear any details of of any other new movies inspired by the success of Plane. It certainly wouldn't be a surprise to find that more airplane disaster movies are released in the near future. As for Ship, if it retains the ingredients that made Plane a hit then expect to see it to be well-received by the public and critics alike.