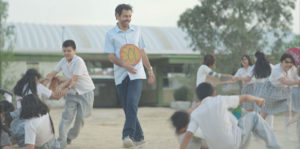 NEWPORT BEACH FILM FESTIVAL 2023 REVIEW! Based on actual events, Christopher Zalla's Radical is the story of Sergio Juárez Correa (Eugenio Derbez), a junior high teacher who volunteers to teach science at the worst school in Matamoros, Mexico. The school is considered a holding tank for children who are poor and written off by society.
New to the school, Sergio realizes that the other teachers' single goal is to ensure their students pass the district's standardized tests so they get bonuses. Fortunately, the teachers were able to get this year's test early. Sergio, on the other hand, decides to make honest kids by teaching them unusual techniques. Only the principal Chucho (Daniel Haddad) is behind Sergio…barely.
On the first day of class, Sergio begins an algebra lesson by turning the tables into "boats" and having the class figure out how best to distribute the system. Throwing away the curriculum, Sergio asks the students what they want to learn…more what questions they have. For example, if Sergio and the principal are the same height but weigh more, why would the principal sink the boat? Now, it's become a lesson in density and displacement.
Sergio's techniques are radical, and the other teachers don't like that he's not teaching his students the subjects on the assessment test…not a single one. He is now under pressure from the district and the administration to stop what he's doing and focus on the curriculum.
Honestly, watching Radical made me upset. Not at the movie, but realizing that students in Mexico are getting better educations than students in California. There's a principle behind Juárez Correa's teaching. That principle is if you teach students basic critical thinking skills, they will not only find the answers to the questions they ask, but they will also be able to figure out how to answer the questions on the assessment example.
"Throwing away the curriculum, Sergio asks the students what they want to learn…"
Here science and math are pulled off the chalkboards and turned into living experiments. In fact, grades don't matter. We're talking applied sciences and answering that age-old question, "How am I going to use this stuff in real life?"
Along with Juárez Correa, Radical follows the life of three students, Paloma, Lupe, and Nico, beautifully played by Jennifer Trejo, Mia Fernanda Solis, and Danilo Guardiola Escobar, respectively. Paloma is a genius at STEM raised by her poor father, who makes money by collecting scraps. Raised by a single mother with her three siblings…and one on the way, Lupe wants to become a philosopher. Nico is being raised by his brother, who is in a gang. The bright Nico ultimately has to choose between his newfound love of school or getting involved in his brother's business.
I know Eugenio Derbez is a comedic actor in Mexico. Sure, he's done a few screwball comedies in the State, but I'm told he's taken much more seriously in Mexico. As Sergio Juárez Correa, his comedic talent comes into play through his interactions with his students. He's there to open their minds and make them thirsty for knowledge. He improvises ways of helping students find the answers they are looking for. Derbez is giving much more than a performance. He's giving up hope for students around the world that they can succeed in school. Of course, stay to the end to see the results of Sergio's teaching.
Radical reminds us that children are more than just cattle to be pushed through a system and then led to the slaughter. Children have brains that are sponges for information. All it requires is a shepherd to lead the way. You should see Radical because school is not a place where you drop your kids off every day. Instead, we as parents and teachers have a responsibility to our children to see them grow right.
Radical screened at the 2023 Newport Beach Film Festival.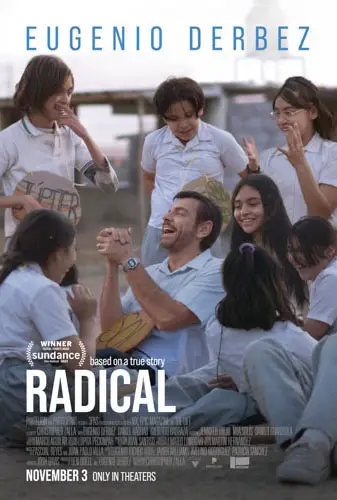 "…reminds us that children are more than just cattle..."