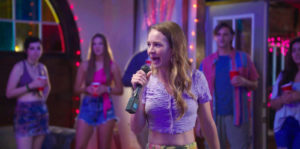 There is only one thing that matters when evaluating a comedy: did it make the viewer laugh? Sure, some films might trade in zany or stupid at the expense of logic or plot cohesion. But, as long as the laughs keep coming, do such things matter? This idea is essential to remember concerning The Re-Education Of Molly Singer, directed by Andy Palmer and written by Todd M. Friedman and Kevin Haskin.
Molly Singer (Britt Robertson) is a divorce attorney who never really left her partying ways behind after college. After running so late to a case, the judge rules against her, and her client, Molly, is let go. However, head attorney Brenda Steiner (Jaime Pressly) realizes that Molly could still be useful. See, Brenda's son, Elliot (Ty Simpkins), who's still mourning his father's death, has not had the best first day of college. To rectify Elliot's newly minted "upper decker" status, Brenda enlists Molly to befriend her son and get him to become a campus hero.
To that end, Molly, now going by a different last name, and her best friend, Ollie (Nico Santos), reenroll into Barnett University. After a contrived (literally) bump into Elliot, Molly, and Ollie realize the kid is intelligent and sweet once he stops overthinking everything. Also helping him see the bright side of college is Lindsay (Cierra Ramirez), Elliot's flirty dorm neighbor. The issue is that she's already dating someone; specifically, she's with fraternity president Stu (Zach Scheerer). Stu happens to be Elliot's biggest bully and is blocking the freshman's entry into the frat as a legacy. Will Elliot ever find confidence? Can Molly save her job and get re-educated, or will she party until all her brain cells are gone?
Applying even the slightest bit of logic to The Re-Education Of Molly Singer presents issues. For example, let's look at the incident that makes Elliot persona non grata in college. Elliot is getting all his luggage out of the car when an oblivious person on a skateboard hits one of the bags. The skater falls off, the biggest bag lands atop the board, and it rolls down the hill, hitting and injuring an MVP football star. This accident is laid entirely at the feet of Elliot, despite him being almost as much a hapless bystander as everyone else.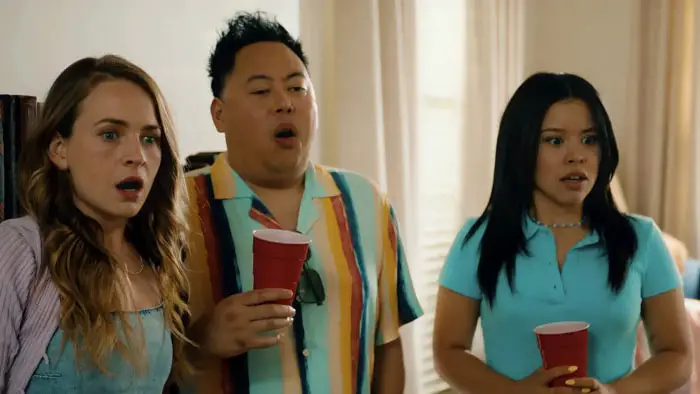 "…Brenda enlists Molly to befriend her son and get him to become a campus hero."
However, did the pacing and silliness of the sequence make me laugh? Absolutely. Part of that is due to the editing and tone, which lean into the overall zaniness. Palmer is wise to never ask the audience to take the film seriously. During a pivotal drinking game, a random narrator gives the play-by-play. Who is this person within the narrative? Who cares? The quip about knowing or not what beer pong is delivers a massive laugh.
The other reason The Re-Education Of Molly Singer works is the cast. The incomparable Robertson is a joy throughout. She gives 110%, attacking the comedy and heart with verve and gusto. Pressly has long been an underrated actor and is clearly relishing her part. The firing scene is genuinely hilarious. Simpkins has been a reliable presence on screen since he broke out in such titles as Insidious and The Whale. His physical timing is funny, while his chemistry with Ramirez is instant. Santos takes the typical best friend stereotype and makes him memorable due to his excellent comedic timing. Plus, I'd be remiss if I didn't mention Wendie Malick's hilarious few scenes. She's a legend for a reason.
The Re-Education Of Molly Singer is a throwback to the goofy comedies that were all the rage in the late 1980s through the mid-90s. This includes the over-the-top commitment to ridiculousness and the lapses in logic those classics are known for. But Palmer keeps the jokes coming at a steady pace while the cast, especially Robertson, deliver hilarious and sweet performances. So don't think about it too hard and have a good time.