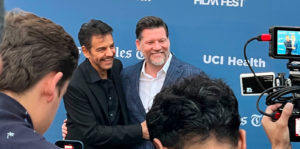 Wednesday night, October 18, at the Sherman Library and Gardens in Corona Del Mar, guests were treated to a lovely party that honored two stars, William Shatner and Eugenio Derbez. It was an exciting evening where guests were entertained with tastings from local restaurants and an open bar from sponsors like Tito's Handmade Vodka.
The event kicked off with a panel discussion with Bobby Berk, star of Netflix's Queer Eye. In a one-on-one interview with The Los Angeles Times, Berk went into full detail on his new book: Right at Home: How Good Design Is Good for the Mind. He discussed the inspiration for his book.
The excitement grew once Mexican actor and comedian Eugenio Derbez entered the scene. His appearance was a prelude to the screening of his new film, Radical, that night. He was honored with the Icon Award, presented by NBFF's president and Newport Beach's City Council.
Eugenio Derbez shared his origins within the Mexican entertainment industry with the crowd, as his mother was a famous telenovela star. He ended his speech with a profound statement to help bring a positive depiction of Latin Americans through the realm of film and television.
The energy was electric once television and pop culture icon William Shatner was brought to the podium. Shatner has such a commanding presence. He was honored with the Legend Award in conjunction with the festival's screening of his new documentary, William Shatner: You Can Call Me Bill. His speech had gravitas and went in an introspective direction. For many in the crowd, being in the presence of this icon was a goosebump experience (me included).
The night ended with an Orange County women's acrobat league performance. These young ladies had a ballet-like style, twirling on tight rope and cloth. Everyone was in awe, watching this elegant ending to the evening. As the Newport Beach Film Festival ends, the anticipation for next year's honorees in 2024 is now on the horizon!