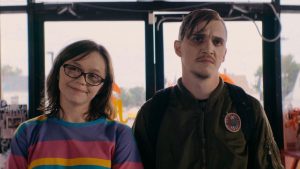 COMING TO THEATERS! Have you ever watched a film and thought, "well, holy s**t, this movie was made for me"? That's exactly what I thought last night after walking out of the Dinner In America screening. Only a few movies before this one have come close to being the perfect movie for me and my specific tastes, and conveniently enough, these other films are heavy influences on this film. Those films being Welcome To The Dollhouse. Ghost World, and Repo Man. If you are fans of any of the following movies, then you will love Dinner In America.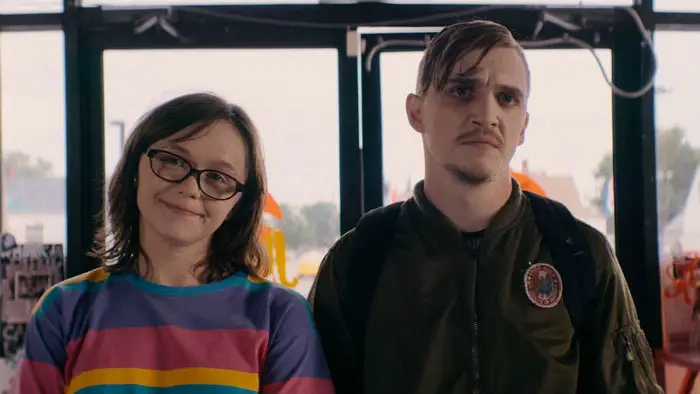 "Simon asks Patty if she has anywhere they can go, and she takes them to her family home."
The film starts in a medical test facility, where one of our protagonists, Simon (Kyle Gallner) is drooling over his cafeteria tray, subjecting himself to medical testing to get money. Soon after, Simon is out of the facility, angry he didn't get paid as much as he wanted and on a mission to do, well we don't know what yet, exactly. Simon is a punk, through and through, bomber jacket, cigarette constantly in his mouth, mohawk, bad attitude. In other words, every guy I ever liked from the ages of 16-24. He ends up accompanying a girl he was in the medical facility with to her house for dinner. The father, Bill (Nick Chinlund), is less than thrilled by this punk at his preppy, suburban football-loving dinner table. The mother, Betty (a hilarious cameo by Lea Thompson), seems to be quite taken by Simon, on the other hand. The dinner does not go well, and hijinks ensue, including a table being overturned and a fire on the front lawn.
After this, Simon is out on the prowl again, and it doesn't take long for us to discover that the police are after him. He runs from a police car and is hiding up in a stairway exit across the alley from our other protagonist, Patty (Emily Skeggs). Patty is, well, different. She's out of it, on a lot of medication, lives at home with her parents at 20, loves the punk band Psyops, and works at a pet store cleaning out the cages. Her parents, Connie (Mary Lynn Rajskub) and Norman (Pat Healey), are overprotective and about as square and suburban as you can get. Her brother Kevin (Griffin Cluck) is a teenager going through the typical awkward adolescence.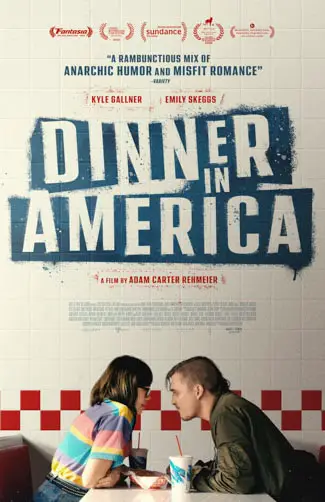 "…hijinks ensue, including a table being overturned and a fire on the front lawn."