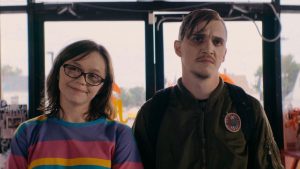 In an effort to avoid the cops, who are after him for the lawn-fire and multiple other incidents, Simon asks Patty if she has anywhere they can go, and she takes them to her family home. In another dinner with family, Simon makes up a story about being a missionary in Tanzania, and Patty's family falls in love with him and allows him to stay. Over the course of Simon's stay with Patty, they get to know each other better and end up finding out they had much more in common than they would have ever anticipated. They even begin to fall in love with each other, and it's seriously the most precious thing on Earth.
One of the things I love about Dinner In America that gives itself away pretty quickly is its love affair with the '90s. Everyone acts and talks and dresses as if they're from that decade, but later on, we realize that it's actually set in the present day. The discombobulation of that is something I found very enjoyable. I also love the punk attitude of the film. In high school and well into my 20's, my whole life revolved around the punk scene. I, too, grew up in the suburbs and dealt with annoying parental interference in my life. I also felt misunderstood. So in many ways, Dinner In America is a clarion call to all kids who don't feel "normal" to be yourself and not give a s**t about the boring world around you. You will find the people out there who get you and life won't be all that bad. I honestly wish this movie would have come out while I was a teenager because I could have used that message back then.
"…one of the best dark comedies I've seen in years and I can't wait to watch it again."
The performances are fantastic from everyone in the film, no matter how little screen time the character has. The script from writer/director Adam Rehmeier is hilarious and ingenious. I found myself laughing out loud many times throughout the film, which honestly doesn't happen too often for me. It's also heartfelt in its love for the underdog, which I couldn't help but love. It's dark and twisted in the best possible way. There are too many hilarious in-jokes to even get into here. The point is for you to see the movie when it comes out to theaters, which is hopefully soon, and not for me to give the whole plot away. Although I do think it's important to mention, especially if you're a music fan, that David Yow from Jesus Lizard, Scratch Acid, and Flipper has a hilarious out of character cameo as a talent agent.
Just know that if you love movies where the downtrodden come out on top, and the dark underbelly of suburbia is exposed, then you need to seek out this film as soon as it becomes available to the public. It's honestly one of the best dark comedies I've seen in years, and I can't wait to watch it again.
Dinner In America screened at the Sundance 2020 Film Festival, the 2020 Fantasia Film Festival, and the 2020 Nightstream Film Festival.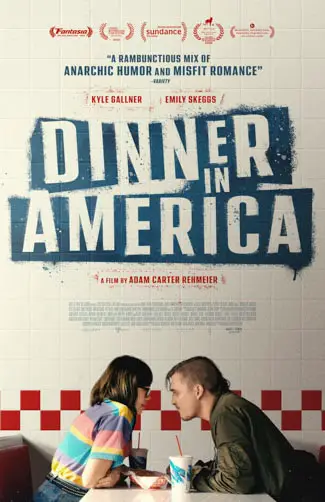 "…hijinks ensue, including a table being overturned and a fire on the front lawn."