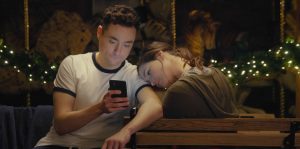 More importantly, are the characters of Christmas On The Carousel. Greyson's somewhat shy demeanor is juxtaposed by how alive he obviously feels when around Sloane. Henry and Camille's constantly lusting over the same men is a tremendous ongoing gag, as is their TikTok trials and tribulations. Paige feels like an actual 10-year-old, and her judgment of the various meme dances is hilarious. Sloane is the lynchpin here, and her backstory is involving. Her actions throughout the narrative always make sense (no spoilers, so sorry for that vagueness), and her pleasant attitude makes her easy to empathize with.
Equally as important to the film's success as the writing of the characters is how they are performed. Bloomquist once again proves himself a great romantic lead, with a soft-spoken, calm demeanor hiding pain and frustration. His chemistry with Dauer is off the charts, as they are on fire together even before the two even try to hook up. Dauer proves to be the secret weapon, as she's lovable and sweet, and even during the inevitable third-act breakup, makes every line and action make total sense.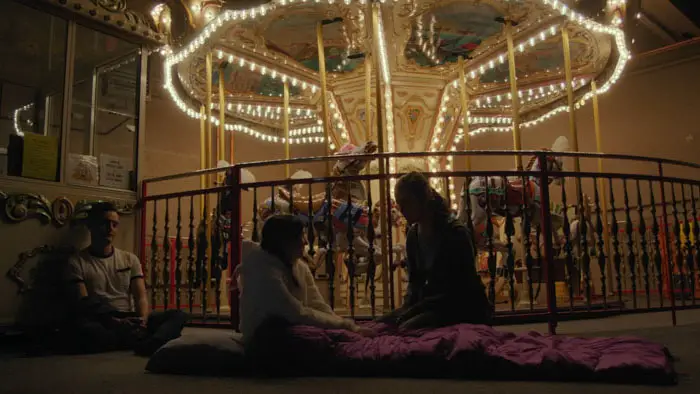 "…realistic characters in emotionally honest situations…"
Turner is hysterical as Henry, and he has some of the best lines, including discussing how he'll look like one of those "inflatable dolls along the side of the road" when doing a certain dance. Oremland is also quite funny, with her excellent comedic timing being accompanied by an affable and charming personality. The young Santarsiero rushes a few lines here and there, but for the most part, is on equal footing with her more experienced seniors. She adds the right amount of energy and amusement to all of her scenes.
Christmas On The Carousel is not the most original story out there. But, the movie sports realistic characters in emotionally honest situations while still serving the cozy-sweet demands of the family/romance holiday genre. In addition, the ratatat dialogue is brought to life by a talented cast, all of who share fantastic chemistry.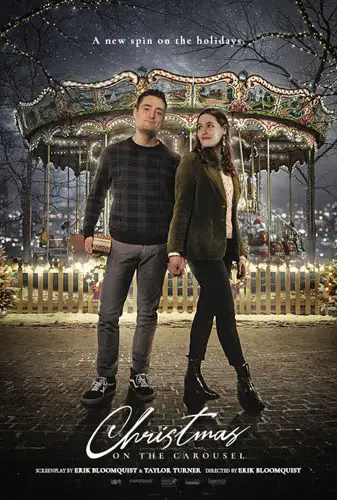 "…Bloomquist turns from horror fare to… Hallmark Channel-style romance?"