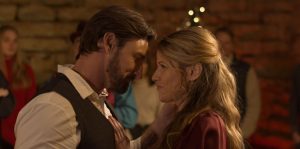 In a typical Hallmark film plot, someone is removed from their familiar environment and placed in an unfamiliar place. However, a town rallies in their support of the newly single man or woman to win the heart of the only single person around. Thus, love ends up keeping them there—for the rest of their life. Directed by Lana Read, who co-wrote it with Nancy Pushkar, Christmas Collision fulfills every Hallmark lover's fixations on the genre. All of the favorite themes and tropes are trotted out, up to and including one of the most indulgent: the unhappy single, city woman being sent to a farm town where there happens to be a handsome and well-groomed man. Both are pining for love but would never admit it. A farmer and writer, in this case, develops an attraction toward a creative businesswoman.
Here, the urbanite is Theodora (Sebrina Scott), who seeks payment on a foreclosed property. She has been ordered to collect and sent to New Richmond, Ohio. Upon arriving, Theodora learns that the property owner has just been laid to rest, and her good-looking son, Charles (John Wells), has only recently returned home for the funeral. He is now in charge of his mom's estate. Due to one mishap or another, Theodora is unable to leave New Richmond. As such, the two get to know each other as Charles decorates for Christmas, and the tough-girl Theodora begins to soften. "The more you decorate, the more Christmas spirit," says Charles to break Theodora's Scrooge persona.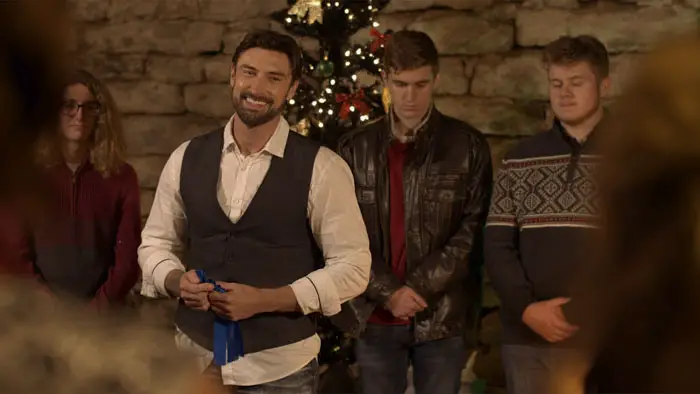 "As Charles and Theodora search for his mother's recipe, they bond."
Meanwhile, tension is brewing on the property acquisition at Theodora's office, which turns out to be owned and run by her father, Ronan (Vernon Wells). With an evil plot to take the farm brewing, there's also a $10,000 cookie contest in New Richmond, which Charles's mother always won. As Charles and Theodora search for his mother's recipe, they bond. In addition, and very Hallmark, the entire town, which appears to be ten people, including the mayor, supports Theodora and Charles as a couple, and they all work hard at playing matchmaker. They are also making plans for their big Christmas celebration.
Hallmark or not, Christmas Collision is easy to watch and happens to be a feel-good movie with all the studio makings of proper lighting, acting, set control, and good sound effects and music. The two leads share decent chemistry that makes it easy to root for their romance to win out against the odds. Plus, each trope might be contrived but still sweet and amusing in the feel-good holiday spirit the production aims for.
Unfortunately, the story has many holes and undeveloped supporting characters, especially Theodora's father and his evil deal with difficult partners to grab the property. Some tough acting without intention lessens the quality of the production and overall impact of the narrative. In addition, some odd details and personalities do not seem fleshed out entirely, so the wholesome people's love of the community is not always clear. However, all told, Christmas Collision is a simple, G-rated film where love prevails, and life turns out fine. After all, it's Christmas, and that's enough.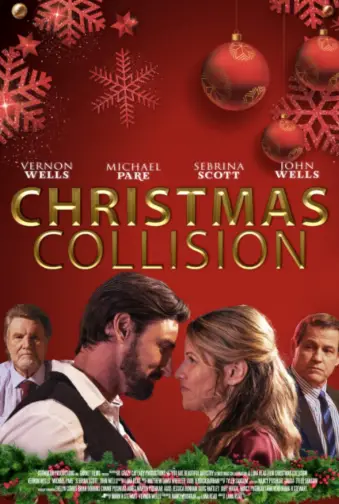 "…amusing in the feel-good holiday spirit the production aims for."