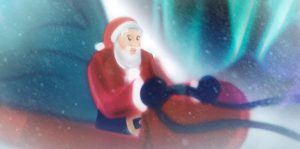 The 6-minute long animated movie The Legend Of Santa, directed by Andrew de Burgh, is based upon screenwriter Daniel Colyer's children's book A Magical Christmas Adventure. In 330 A.D., in what would eventually become Turkey, there lived a kindly bishop, Saint Nicholas. One day, he sees a child crying, and in an effort to help the kid feel better, he gives them a toy.
Seeing how happy this makes the child, he decides to deliver toys everywhere. To do so, he hitches a wagon to his trusty steed and ventures into the wintry forests. Of course, the snowstorm becomes more severe, and Saint Nicholas gets lost. But, something almost magical seems to be compelling the bishop forward into the lore and legends that are still told the world over.
Let's get the problems out of the way first. The character movements are stiff and awkward. It's almost like a frame or two was removed to speed up the production, so Nicholas walking or turning his head is very jerky. As this is an animated production, it is very difficult to ignore this problem.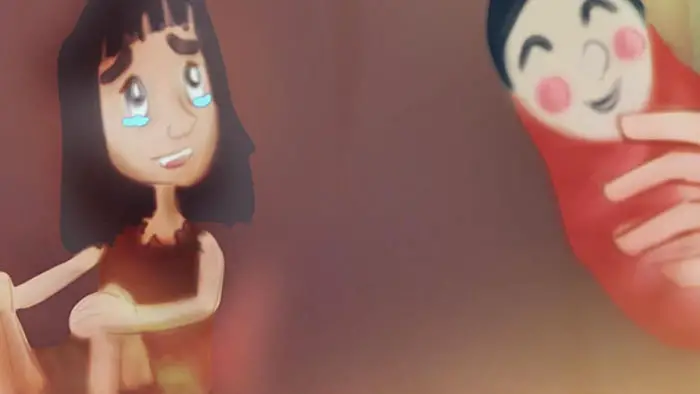 "…Saint Nicholas…sees a child crying, and…gives them a toy."
As there's no dialogue, which also proves a boon, certain story elements make no sense. Like, Saint Nicholas stumbles down a hill in the snow and comes across a fully formed North Pole center run by elves who seemingly have been awaiting his arrival. It's all a bit confusing and nonsensical.
However, The Legend Of Santa still works. See, while the characters move oddly, their design is lovely and gorgeous. The backgrounds are lush and beautiful, so the film's world is inviting and feels truly magical. Immensely helping matters is Marc Timón's evocative score. The music is inspiring and uplifting and fits the sweet mood of the short perfectly. It is probably the best single element of the production overall and moves the entire thing into easily recommended territory.
The Legend Of Santa is fighting an uphill battle, as there are a number of titles about the origins of Santa Claus. Its stiff animation and confusing plot points do not do it any favors. But, thanks to the vibrant colors and detail of the design, and the genuinely excellent score, the film still works. Flawed, but at 6-minutes, it is worth your time.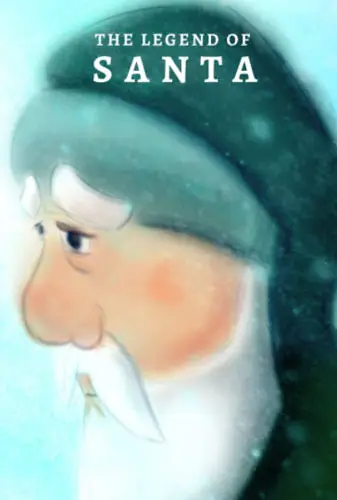 "…the film's world is inviting and feels truly magical."