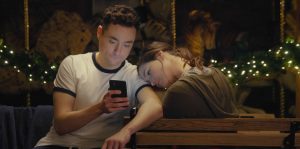 With Christmas On The Carousel, Erik Bloomquist turns from horror fare to… Hallmark Channel-style romance? Well, at first glance, it might actually seem that way. But, for fans who know the man for the recent supernatural frightener Night At The Eagle Inn or the surreal scares of Ten Minutes To Midnight, this romantic dramedy will take some adjusting of expectations. The question then is, are the folks over at Mainframe Pictures able to successfully transition into a more family-friendly title without falling apart at the seams?
Director/co-writer Bloomquist is Greyson, whose best friend from high school, Henry (co-writer Taylor Turner), picks him up from the Hartford train station. See, Grayson has come home from college for the holidays. The duo then meets up with longtime pals Sloane (Madeleine Dauer) and Callie (Rachel Oremland) to catch up over drinks. While imbibing spirits, it comes out that Sloane needs someone to watch her 10-year-old sister, Paige (Tess Santarsiero), tomorrow so she can get some stuff done while their mom works.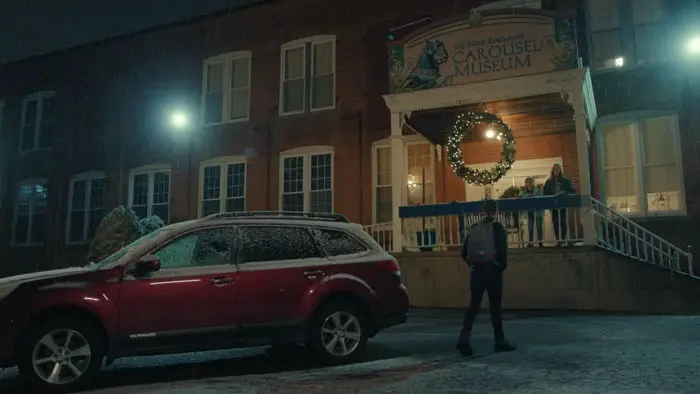 "…a sleepover at the old Carousel Museum and film TikTok videos there."
Greyson happily volunteers and the next day takes the girl out to Bushnell Park and a ride on its famous carousel. The carousel house also happens to be where Henry, who longs to become TikTok famous, works. When talking to Paige, he gets a brilliant idea: do a sleepover at the old Carousel Museum and film TikTok videos there. He gets all his friends and Paige to come along as well. Throughout the night, fun times are had, and long-held secrets and love come to the forefront. Can Greyson and Sloane finally admit their feelings for each other and still keep their lifelong friendship intact?
Christmas On The Carousel holds no surprise in terms of the plot beats hit and when. If one has seen Holiday Affair, The Twelve Trees Of Christmas, or The Holiday (side note: I only like one of those movies. Any guesses as to which?), then figuring out character trajectories and the story arc is a breeze. However, that is not a bad thing. For starters, all these Christmas flicks, whether good, bad, or somewhere in the middle, need to have that "spirit of the season," good feelings warmth that is so associated with the holidays. In that regard, the writers have done an excellent job, as the atmosphere, while serious when needed, is dripping in sweet sentiments that are the right amount of cozy to become a perennially favorite.
This isn't to imply that Bloomquist and Turner only go for the cliches. Quite the contrary, as several are avoided. For example, Sloane and Paige's dad, a firefighter, is dead, and there's no real resentment or grudges against the world for that. The screenplay also avoids speechifying big, emotional moments, favoring more intimate, natural, and grounded takes. Unlike most Hallmark productions, this sounds authentic and like how people actually talk.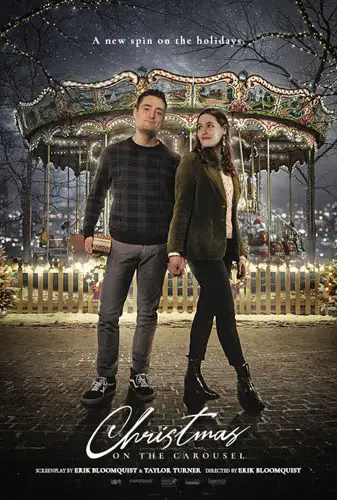 "…Bloomquist turns from horror fare to… Hallmark Channel-style romance?"