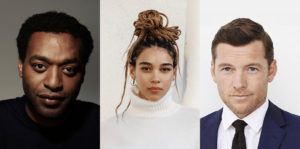 The organizers of the Oscars® qualifying HollyShorts Film Festival (HSFF), are excited to reveal their 2023 jury members. The jury consists of eighteen renowned industry experts who will select the winners of the HollyShorts awards, four of which will be eligible for the Academy Awards®. The festival will showcase 402 films this year, with 43.3% made by female filmmakers and 30.5% by BIPOC filmmakers.
Members of this year's HollyShorts Film Festival jury include Oscar® nominated actor Chiwetel Ejiofor (12 Years a Slave), Sam Worthington (Avatar), Zoey Deutch (Not Okay), Alexandra Shipp (Barbie), Josh Whitehouse (Daisy Jones & the Six), Christina Chong (Star Trek: Strange New Worlds), Run the Burbs showrunner, Nelu Handa and Academy® Award winner Jaime Ray Newman (Skin). 
Joining the jury are Tom Berkeley and Ross White, who won a 2023 OSCAR® with their film, An Irish Goodbye, 2022 Academy Award® Winner Aneil Karia (The Long Goodbye), the 2023 OSCAR® nominees Pamela Ribbon (My Year of Dicks) and Wendy Tilby and Amanda Forbis (The Flying Sailor). Returning this year will be double OSCAR® winner and animation guru Joanna Quinn (Affairs of the Art), Academy Award® winner Alice Doyard (Colette), and 2023 OSCAR® nominee Joshua Seftel (Stranger at the Gate).
Esteemed industry professionals also serving on the jury include Variety journalist K.J. Yossman and Eric Kohn, Executive Editor & Chief Critic of IndieWire and Awards Daily's Joey Moser, Short of the Week's Céline Roustan, alongside journalists Sandro Monetti and Zorianna Kit. 
Also judging this year's films are Alexander Shekarchian, Ari Tan, Fanshen Cox, George Valentin Burcea, Jennifer Bertling, Jake Mitchell, Joel Walden, JT Mollner, Juliet Berman, Kalani Dreimanis, Lauren Bixby, Leah Philpott, Nelu Handa, Rakhee Morzaria, SJ Main Muñoz, Vivian Lin, Yulissa Morales-Silva and  Zach Cox.
This year's hybrid celebration of short films will take place in person with screenings at the world-renowned TCL Chinese Theatres in Hollywood and virtually through the official festival streaming platform, BITPIX.
HollyShorts screenings will take place from August 10-20 at the TCL Chinese Theatres, 6801 Hollywood Blvd. 3rd Level, Hollywood, CA, 90028, followed by the annual awards gala on August  20th.
For additional information and tickets, visit: www.hollyshorts.com
To purchase an All Access Early Bird Badge visit: https://hollyshorts2023.eventive.org/passes/buy
Header Image: Chiwetel Ejiofor, Sam Worthington, and Alexandra Shipp.