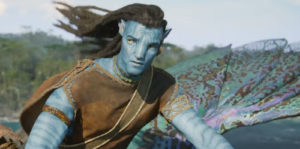 I think I'm a bit shell-shocked. This year has not been a good one for movies, period. Nevertheless, I would describe James Cameron's mighty sequel, Avatar: The Way of Water,  as refreshing and a great way to cap off a miserable year in film.
Avatar: The Way of Water takes place many years after the 2009 film. Jake Sully (Sam Worthington) and Neytiri (Zoe Saldaña) have started a family with oldest son Neteyam (Jamie Flatters), second son Lo'ak (Britain Dalton), and young daughter Tuk (Trinity Jo-Li Bliss). They've recently added to their clan by adopting Kiri (Sigourney Weaver), who was born from Grace Augustine's Avatar body, and an abandoned human boy, Spider (Jack Champion).
Life is idyllic for the Sully clan, but all good things must come to an end. The Sky People (colonizing humans) have returned. They are led by General Ardmore (Edie Falco), who is tasked with creating a settlement on Pandora for the last remaining humans from a dying Earth. Unfortunately, a year after their arrival, the Pandorans are making it difficult for the Sky People to make any real progress in colonization.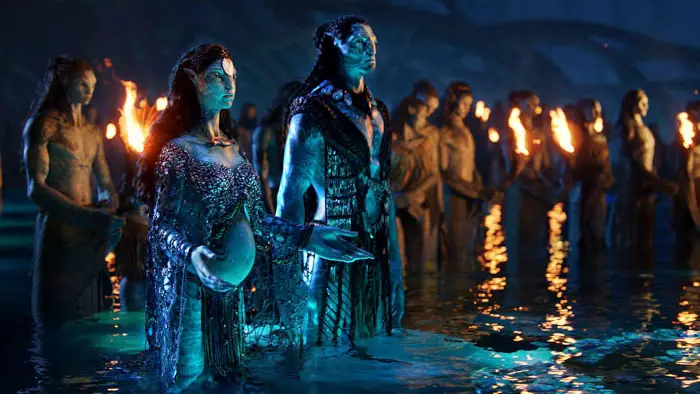 "To remedy the Pandoran problem, a team of elite military avatars is sent to find and kill the resistance leader, Sully."
To remedy the Pandoran problem, a team of elite military avatars is sent to find and kill the resistance leader, Sully. The leader of the deadly avatars is Colonel Quaritch (Stephen Lang), who died in the first movie. Fearing for the safety of the forest people, Jack and Neytiri flee to the reef. The reef is home to the Metkayina people, who are led by clan leaders Tonowari (Cliff Curtis) and Ronal (Kate Winslet). The rest of the film is a game of cat and mouse between Quaritch and Sully. Unfortunately, Quaritch is not above genocide.
Unlike the first film, much of the story of Avatar: The Way of Water gives attention to Sully and Neytiri's kids instead of a grand military operation. The boys want to be great warriors like their father, but he's overly concerned for their safety. The girls are having trouble adjusting to life along the reef and want to return to the forest. Kiri, on the other hand, shows an extraordinary connection with the fauna of Pandora.
The film succeeds because Cameron captured what audiences liked from the first film. He brings back the beauty and awesomeness of Pandora. This time we move from the forest to the even more beautiful seaside reefs. Cameron and crew do an outstanding job expanding the world of Pandora, and it looks incredible in 3D, just like the first.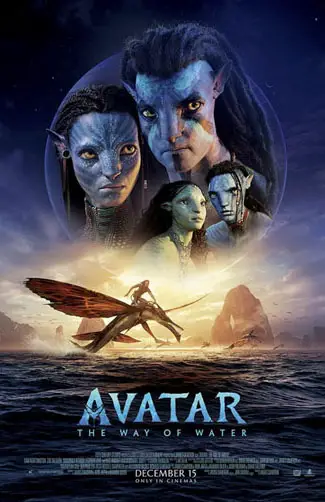 "…no agendas; it's all about family."