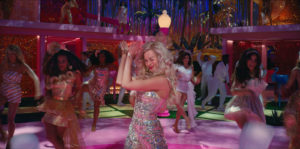 Since 1959 there's not been an icon of American culture more pervasive than Mattel's Barbie doll. So much so that the history of the toy has been a reflection of American culture as we entered the television age to now. Director/co-writer Greta Gerwig's big screen take on the toy icon, Barbie, is a fantasy that stacks up pop culture, heavy nostalgia, and social commentary like a layer cake with hot pink icing.
Barbie tells a simple fable: all is well in Barbieland when Stereotypical Barbie (Margot Robbie) begins having an existential crisis. Her feet are suddenly flat. She sees cellulite and begins to consider her mortality. This Barbie is told she must seek out Weird Barbie (Kate McKinnon), the wise woman/shaman figure of Barbieland. Weird Barbie has seen it all and knows the ways of the world after being played with so hard that she's damaged. She tells Barbie that something has gone wrong in the real world, and Barbie must travel there to try to fix it. Barbie embarks on the classic Hero's Journey, meeting all the ritual requirements.
"…something has gone wrong in the real world, and Barbie must travel there to try to fix it."
Barbieland is a feminist utopia where women hold all positions of power, and the Kens and the lone Allan (played perfectly by Micheal Cera) are largely ornamental. As Barbie leaves her perfect home, she faces a shocking fish-out-of-water revelation of how flawed and complex the real world is. Further complicating her journey is the fact that one of the Kens (Ryan Gosling) has stowed away in the back seat of her pink 1960s Corvette convertible and is going with her to our world. He interrupts her vision quest as she's singing the Indigo Girls' feminist anthem Closer to Fine. She reluctantly agrees to take him along.
The Kens' (all of them, but embodied by the Ryan Gosling instance) design has a fatal flaw in that he does not exist except in the context of Barbie. He only feels natural when he has her attention. He is an accessory. His intellect is infantile, and he competes with the other Kens (played by Simu Liu and Kingsley Ben-Adir, among others) for Barbie's spotlight. This leads him to destructive conclusions when he lands in our world and sees the out-of-balance power dynamic of gender inequality. Barbie soon finds herself engaged in conflicts trying to fix the original problem, as well as dealing with rogue Ken(s).
Barbie hits the target on many levels. It's a fun, whimsical romp with a great message. Robbie is proving to be the true movie star of our time. From her high-voltage troublemaker in Babylon to Harley Quinn in Suicide Squad and Birds of Prey, she consistently delivers insanely good performances. She was born to play Barbie and carries the film with grace and power. Gosling offsets her equally well.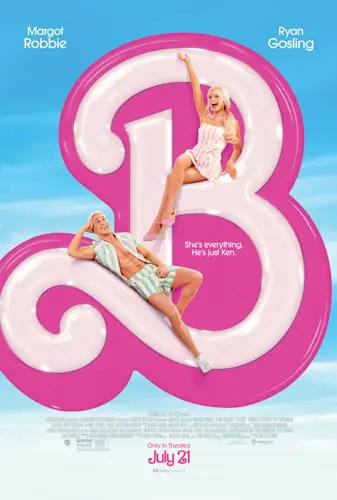 "…stacks up current pop culture, heavy nostalgia, and social commentary..."