Movies have been one the most influential forms of entertainment existing on the face of the earth. Of all the film industries in the world, one has to agree that Hollywood is the ruler. It has not only produced brilliant movies time and again but also left an impact on the viewers for life. Hollywood has also made several movies on gambling. And as betting is a hot topic among youngsters, movies made on gambling have indeed earned a huge amount of fame. 
These movies deal with an exceptional amount of drama and are more than often associated with risk because usually, that's what gambling is all about. They are fun to watch and also come with moral lessons so that viewers can later play on casino sites accepting Boku carefree. Are you looking for a Hollywood movie based on gambling but could not find any as of now? This blog will help you find out about the top 3 Hollywood movies that changed how people viewed gambling. Keep reading!
1. Bookies (2003)
Bookies is probably the one gambling movie that people recommend to their fellow bettor friends even today. It is a story of a group of youngsters who go to college and are quite disturbed in life because of their consecutive losses in the sports betting world. But their luck awaits them a far better future when they start a new bookie together. Their bookie is loved by several new and old gamblers in the market, giving them an immense amount of fame that even the older bookies could not acquire to date. 
Their success is not short-timed; it rapidly increases and soon they become the town's most loved and powerful bookie. The story of the movie is very gripping as it shows how one can turn their addiction into a full-time business, venturing huge amounts of profit. If you are wondering where to watch this brilliant film, then hop on to Amazon Prime Video or Tubi!
2. The Cooler (2003)
People who are not into gambling, too, seem to love this movie for the plot it offers. You will be surprised to see how the protagonist of this movie, Bernie Lootz, performs the job of making people lose bets in the casino where he works. This helps the casino to scale high amounts of profit by deceiving the gamblers. However, Bernie does not stay the same bad guy when he meets Natalie Belisario, the girl who makes him instantly fall in love. 
We all must have heard how love can change the way one behaves and that's exactly what we get to see in this movie. Bernie's feelings for Shelly make him leave behind his sinful past and become a person who is above his mistakes. The way the plot unfolds makes one highly interested in the movie and keeps them gripped throughout. If you are keen on watching The Cooler, you can do so on Amazon Prime Video, YouTube, Hulu, iTunes, and Google Play Movies & TV.
3. Rounders (1998)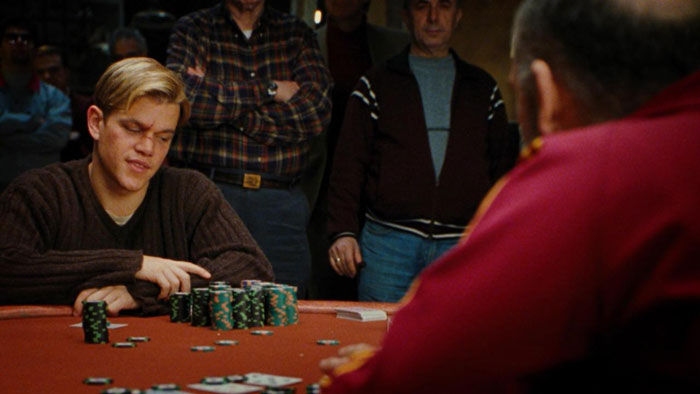 Gambling is often associated with debt because of the high risk it comes with. In Rounders, the protagonist, starring Matt Damon, struggles to escape deadly ties of debt caused by vigorous gambling. Mike gets trapped in debt when he loses a great deal of money to a Russian gangster while placing a bet. After much convincing from his girlfriend, he leaves the past behind and tries to move on but somehow it comes back to haunt him, unfolding the plot further. This movie is easily available on YouTube, Netflix, Amazon Prime Video, and iTunes and is a great watch for this weekend!
Which Movie is Making Your List Next?
If you have nothing to do this Sunday, then watching a movie might be a great thing to do. These movies are definitely the blockbusters that you need to get your hands on if you are a true gambler. Moreover, taking a break from gambling and watching a fun movie can be a fun stress buster. So which of the above mentioned movies are you planning to watch first? Do let us know!