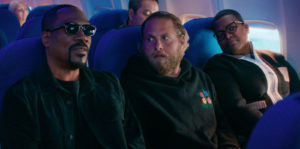 NOW ON NETFLIX! You People stars Eddie Murphy, Jonah Hill, Nia Long, and Julia Louis-Dreyfus, with Hill serving as producer. He also wrote the screenplay with Black-ish creator Kenya Barris, who directs. With that amount of heft both in front of the camera and behind it and its topical racial/ethnic dynamics, it's surprising how slight this comedy feels. That's not to say that there is not a substantial amount of laughs that stem from its situational setup, just not enough.
Hill is Ezra, a Jewish man who falls in love with Amira (Lauren London), a woman from a proud black Muslim family. The crux of the story stems from the subsequent fumbling of families as Ezra's parents, Shelley (Julia Louis-Dreyfus) and Arnold (David Duchovny), meet Akbar (Eddie Murphy) and Fatima (Nia Long), who are Amira's folks. The older generation must try to adjust to their offspring's union. Of course, they handle it in a number of uncomfortable ways.
As a light romantic comedy, the conflicts within You People stay relatively on the surface. The stakes remain on the broader side of the spectrum. Should a rabbi or an imam preside over the wedding ceremony? His suspicious future father-in-law attends Ezra's bachelor party. A dinner between the two families goes as well as expected.
"…Ezra, a Jewish man who falls in love with Amira, a woman from a proud black Muslim family."
The trouble is that at two hours, all scenes tend to meander long past their expiration date, with dialogue that feels more like an improv version of Guess Who's Coming to Dinner?. The film never feels as though it wishes to mine the depths of its biracial union but rather relinquishes it to the hands of seasoned actors and lets them riff while the cameras roll. Then, about two-thirds in, Hill and Barris abandon all comedic trappings, replacing them with standard-issue montages of the couple grappling with their tattered relationship. It's a telegraphed tonal shift that, while expected, leads to a conclusion that never feels truly earned.
It helps matters none that Barris, known predominantly for his sitcom creations, applies the same episodic structure to You People. Scenes are spliced together with jarring MTV-style transitions against a loud soundtrack and a narrative that jumps by months at random. Add it all up, and it means audiences are never allowed to invest in some of the messier aspects of Ezra and Amira's relationship with one another or their family.
Instead, the film chooses to bounce from one awkward situation to the next, with little time to make the characters feel like actual people. It's a shame, too, as some solid jabs are taken. A funny bit involves self-satisfied white liberals feeling as though their ability to rattle off 1990s rap names somehow "connects" them to the culture. Amira represses her frustrations lest she is considered an "angry black woman."
There are some moments of scathing comedy, including the aforementioned squirm-inducing dinner scene in which they argue the devastation of the Holocaust versus slavery. And, though it was most likely unintentional during production, that scene is followed by an equally discomforting discussion between Ezra and his future father-in-law about a certain song from Kanye West. But those moments are fleeting as You People zips awkwardly to its next scene, never allowing its comedic bite to leave any sort of lasting mark.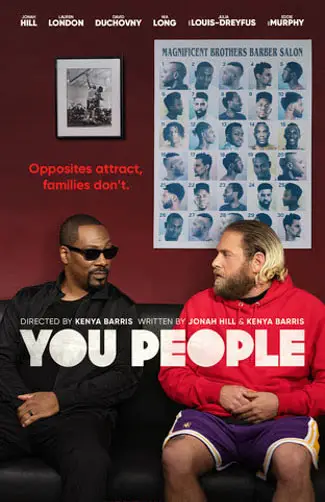 "…zips awkwardly to its next scene..."