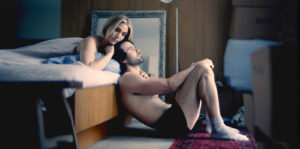 Writer-director Graham Streeter's Unfix explores the aftermath of a young boy thrust into the spotlight of the conversion therapy movement of the 1990s, who must now navigate this present world as a "fixed" adult. Ari (Zane Haney) and his professional and romantic partner, Ava (Zoë Papia), are childhood friends who run a coffee shop together. Their store is about to fold as the COVID lockdown has shuttered their business. But this is just the tip of the iceberg of the problems Ari and Ava face.
Ari was once the center of attention in the conversion therapy movement. His father was the founder of the largest conversion "camp" in the U.S., and Ari was the foundation's poster child. He was "fixed" at age eleven, but the methods endured left an indelible mark. Today, life is tense between Ari and Ava. He's back with his therapist (Danielle Marie), who suggests that he see a "surrogate" who can help him cope with the physical trauma of his past.
To help with finances during the pandemic, Ava invites two young men, Jon (Damon McKinnis) and Max (Noah Toth), to rent their spare bedroom as both were kicked out of the local hostel. We soon learn that Jon and Max are not exactly strangers, and both are connected with Ari and Ava in profound ways.
The overarching theme of Unfix is to show the devastating state that conversion therapy left its patients/victims. Message-based stories are hard to pull off without turning into an afterschool special. This is particularly true when that message is so incredibly divisive today. No one wants an afterschool special. Instead, Streeter brilliantly turns his film into a dramatic thriller.
"…suggests that he see a 'surrogate' who can help him cope with the physical trauma of his past."
One of the secrets, as mentioned earlier, is that Max is a same-sex surrogate introduced by his therapist to help Ari explore his physical feelings toward other men. This form of therapy is highly controversial, and the two agree to hide their sessions from Ava and Jon. At the same time, Ava and Jon are not strangers either, and Jon's presence in their home is not a coincidence. As the two pairs fight to keep their secrets, it's only a matter of time before the bubble bursts.
I'll be honest. I have somewhat of a vested interest in the subject of conversion therapy. As an Evangelical in my young adult days, I found myself on the wrong side of the issue and personally witnessed the devastation conversion therapy had on my friends and family. Unfix does not exist to criticize Evangelicals. Instead, it's about Ari's journey to coming to grips with his true self. This is not your typical conversion therapy survivor anecdote. I appreciate Streeter for telling the specific story of Ari. That allows the film to come from a different and unique point of view.
The highlight is Zane Haney and Zoë Papia's acting. These are not easy roles to nail down. They both shine as characters hiding secrets with a vast amount of emotional baggage… I mean subtext that they have to carry. Haney's performance is incredibly complex and nuanced.
Ultimately, Unfix shows what many Evangelicals thought was a simple solution to a complex situation by merely "praying it away." In turn, it left thousands of souls confused, broken, and abandoned. Writer/director Streeter then elevates this message-based narrative into a dramatic thrill ride.
Unfix is set to premiere at the 2023 Dances With Films.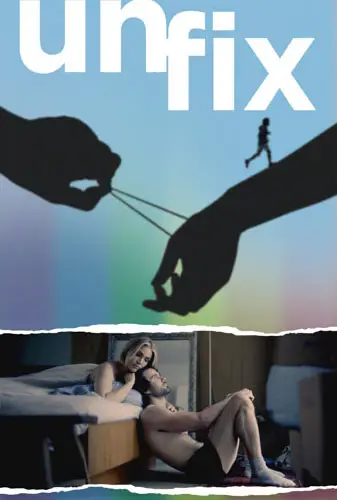 "…elevates this message-based narrative into a dramatic thrill ride."