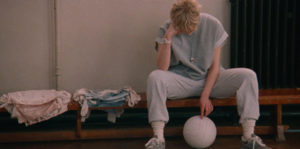 Writer-director Georgia Oakley's Blue Jean shows that there are very few things more difficult than having to hide an integral part of oneself from a "dignified" society. Living the lifestyle one chooses versus maintaining respectability in the community is an impossible choice that far too many have had to make. During Margaret Thatcher's decade-long tenure as Prime Minister of the United Kingdom in the 1980s, she waged a relentless cultural war against the LGTBQ+ community and their ostensible rejection of traditional values. While strides have definitely been made today, it's hard not to hear the echoes of Thatcher and Reagan in the culture wars we're hearing today around the Western world.
Jean (Rosy McEwen) is a gay physical education instructor at a small high school in northeast England. She loves the opportunity to shape the minds and bodies of her pupils. Jean leads a double life, though. At night she frequents a lesbian bar with her girlfriend, Viv (Kerrie Hayes), and their close-knit community of friends. This delicate balancing act between Jean's professional and personal life is subsequently thrown into jeopardy when a gay student of hers (Lucy Halliday) recognizes Jean at a nightclub. What follows for Jean is an environment defined by manipulation and difficult choices that are bound to have compounding effects for everyone close to her.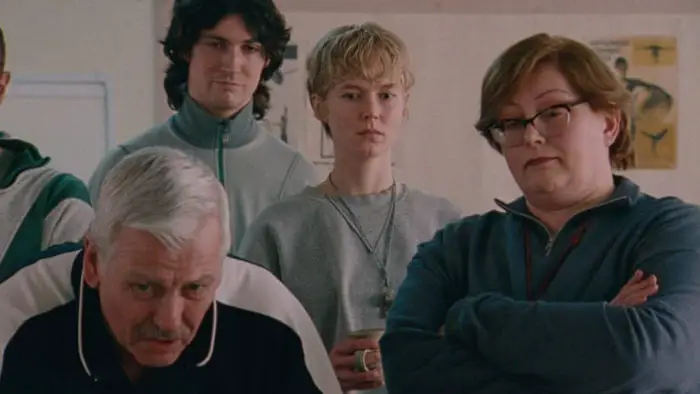 "…life is subsequently thrown into jeopardy when a gay student of hers recognizes Jean…"
McEwen is a bright new talent who gives a very memorable lead performance in Blue Jean. Jean is a character bouncing between separate spheres of existence. The actor convincingly exemplifies an individual who has learned to operate within the diametric communities of traditional Anglo-Saxon propriety and the lesbian subculture of the 1980s. The contrast between the emotional and physical space of the character with that of her square sister serves to highlight the widening gulf between realities. When these worlds mix, cracks begin to show in Jean's personality. A person can only play both sides for so long.
One of the first things an attentive viewer will notice is the use of 16mm by Oakley and company. Some could argue that its use is too reminiscent of the Todd Haynes drama Carol, but I don't think Blue Jean would work any other way. Shot digitally (or even on 35mm), the film would lose the grounded and authentic atmosphere so integral to its overall success in a veneer of theatricality. This would directly conflict with the depth of the characterizations at the heart of this drama. The conscious, anti-Netflix aesthetic by Oakley is more than refreshing here. Maybe 4K resolution isn't always the answer?
I love Blue Jean. The framing, editing, and overall rhythm of the story brim with intelligence. When coupled with a star-making performance from McEwen, we have what should be a new LGBTQIA+ classic drama. The transportive quality of the production design and aesthetic approach takes us back to a past that's not so distant, one that is pointing the way to a future that, quite frankly, hasn't made enough progress. The more things change, the more they stay the same.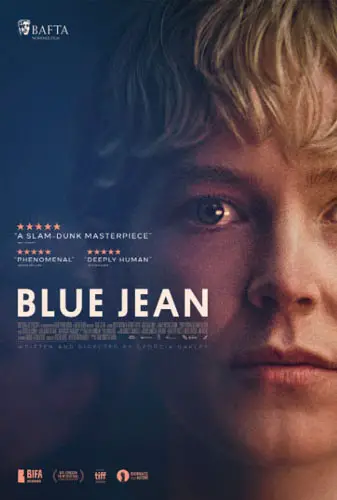 "…a star-making performance from McEwen..."