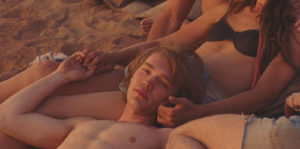 SXSW FILM FESTIVAL 2023 REVIEW! The debut feature film for first-time director Luke Gilford, National Anthem is a dramatic film about exploration, discovery, and love in the wild lands of the Southwest desert. The main character, Dylan (Charlie Plummer), takes odd ranch jobs to fund his dream of buying an RV to roam across America. The 21-year-old lives under the roof of his single mom, Fiona (Robyn Lively), an off-and-on alcoholic hairdresser and is the caretaker of his young brother. Aside from family, Dylan's quiet life is lonely and small but respectable.
Taking a job on a remote ranch, specifically a homestead dubbed the House of Splendor, Dylan's life becomes infused with new people, out-of-the-ordinary experiences, unknown sexuality, and undiscovered emotions. It all adds to a greater understanding of life and being, especially with the opportunity to participate in a rodeo. The catch is this rodeo is queer and filled with fun, glamorous, and talented drag queens and badass riders. And they can belt out the National Anthem like nobody's business. It's quite a contrast of life between the remote, bleak desert that Dylan is used to.
As the story of Dylan's discovery of himself and life unfolds, he is open to accepting whatever comes his way. One day is moving hay bales, and the next is getting ready for the ride of his life due to his newfound love for Sky (Eve Lindley). She's her full-of-life personality means she's always living in the moment; she's the exact the opposite of Dylan. As Sky draws Dylan into her world with her partner Pepe (Rene Rosado) and their crew, including Carrie (Mason Alexander Park), he learns of her talent as a barrel racer on her beloved horse, Cash. Much ensues with a growing affection for Sky being part of alternative life and culture, creating solid friendships, and bringing Dylan's family of his brother and mother to a better place.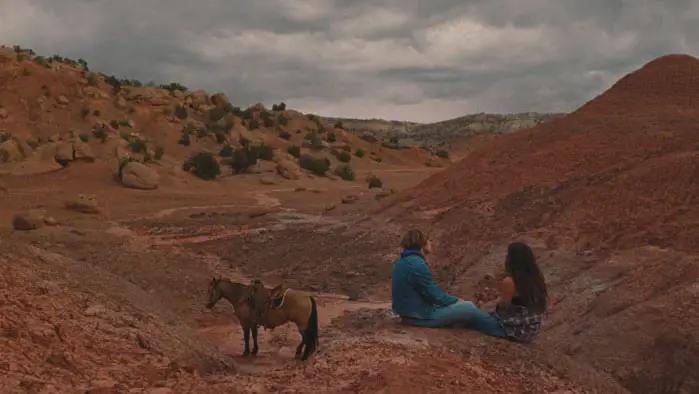 "…this rodeo is queer and filled with fun, glamorous, and talented drag queens and badass riders."
National Anthem is a beautifully filmed (on film) movie by rising star cinematographer Katelin Arizmendi of Dune and many other noteworthy projects fame. The open feel of the desert, love, and identity is felt through purposeful angles and natural light. The contrast between life and nature is real. Gilford's directorial choices are also well executed, allowing the story to unfold unexpectedly. He adds a little finesse, a love of imagery, and many authenticities that go a long way for any first-time filmmaker.
The film is an adaptation of Gilford's photography monograph exploring America's queer rodeo. His father was a rodeo contender, and he grew up going to rodeos, which gives this drama even more credibility and understanding. However, what is most exceptional about Gilford's filmmaking is that he allows the audience to decide for themselves. There's no forced thinking or demand on a lifestyle, people, or place — all the LGBTQIA+ themes are there, and one can take it or leave it.
National Anthem is filled with beautiful people, from its stars to supporting roles, and the camera loves them all. The film is visually stunning and tells a story everyone can understand, with great drag performances and other spectacles to make it memorable. Gilford offers a sense of beauty to behold and accept should we know where to work.
National Anthem screened at the 2023 SXSW Film Festival.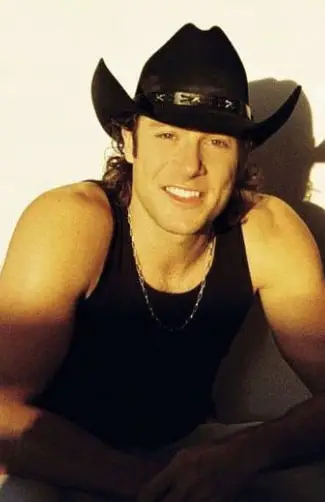 "…offers a sense of beauty to behold and accept..."