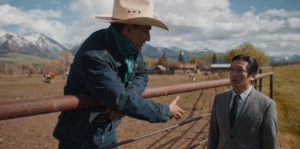 NEWPORT BEACH FILM FESTIVAL 2023 REVIEW! Part Gung Ho, part fish out of water, director Marc Marriott's feature, Tokyo Cowboy, pulls a Japanese salaryman and drops him in the middle of Montana with only a briefcase and a PowerPoint presentation to survive. Hideki (Arata Iura) is a successful salaryman working for a Japanese food conglomerate. After his company acquired a large American corporation, his boss/fiancee Masuda (Ayako Fujitani) decided to sell off the unprofitable segments of the company to developers.
The Lazy River Ranch is one such segment to be sold off. Hideki, though, sees great profit potential. The idea is to steer away from raising traditional cattle and instead raise Wagyu. The specialty beef produced in America is bound to be successful. Unsure of this venture, Masuda agrees to send Hideki to Montana to see if this idea can work. She sends the US-savvy Wada (Jun Kunimura) with him to help the awkward Hideki build rapport with the American ranchers. Unfortunately, when the pair arrives, Wada breaks his leg riding a mechanical bull with the locals. Now Hideki is on his own.
The following day, Hideki's presentation to convert the ranch to raise only Wagyu goes over like a lead balloon. He's met with resistance from the former owner, Peg (Robin Weigert), and the PowerPoint presentation didn't quite go so well with the ranch hands. Afterward, the frustrated Peg sends Javier (Goya Robles) to give Hideki a tour of the grounds on horseback. Now, Hideki has only a few days to convince the staff to change or risk the ranch being sold to developers.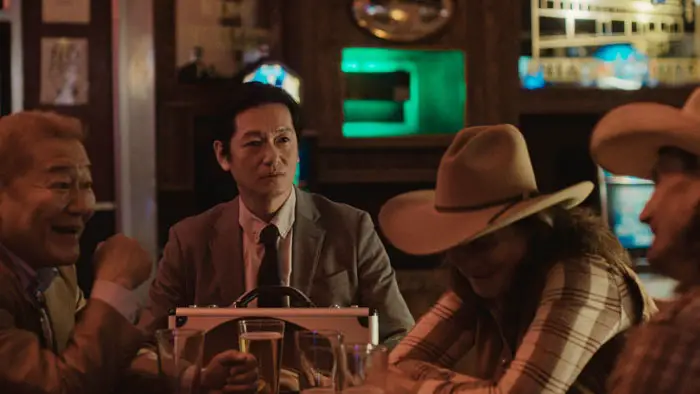 "…Hideki has only a few days to convince the staff to change or risk the ranch being sold…"
What I appreciate most about Tokyo Cowboy is that this is drama. Based on the plot, it's a no-brainer that if a big Hollywood studio had gotten hold of the script, this would be a screwball, slapstick comedy. There is an authenticity that comes with the seriousness of Dave Boyle and Ayako Fujitani's screenplay. Hideki is a true fish out of water. His only lifeline to sanity is immediately taken away from him when Wada is down with a broken leg. Hideki is now forced to learn Western ranch culture, which is the exact opposite of the corporate businessman lifestyle he's used to.
Rather than place Hideki in outlandish situations, the story goes in a much more authentic direction. He has to cast aside his business suit for ranch gear and ditch the car for horseback. I can't tell you how grateful I am that this drama stayed away from overt racial issues. Yet, the lead's most challenging task is sitting down with the ranch staff and getting to know them in order to make the deal.
The best part of Tokyo Cowboy is the understated performances of the entire cast. No bravado. No over-the-top moments. It's about being real, as when two disparate cultures meet, there is a cautiousness that comes in trying to figure one another out. And not just in terms of cultural differences but motives as well. Eventually, the story focuses on Hideki's tenuous friendship with Javier, who opens his life up to Hideki to build trust and common ground. As Hideki, Arata Iura gives a beautiful performance as Hideki is forced to find his true happiness and passion in life.
Tokyo Cowboy is one of those films that Hollywood would ruin if it had the chance. Director Marriott keeps it within the indie drama spectrum, which allows him to focus on the human drama, which lies at the heart of this film. The simplicity of the story is what makes this a touching and thoughtful film.
Tokyo Cowboy screened at the 2023 Newport Beach Film Festival. For more screening information, visit the Tokyo Cowboy official website.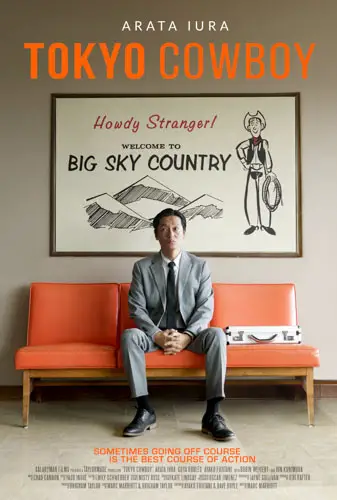 "…touching and thoughtful..."