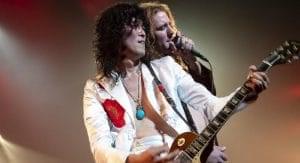 NOW IN THEATERS! Every summer, our local county fair books a long string of rock tribute bands paying homage to the great music of the past. We love tribute bands mainly because the original group couldn't get their act together and split up or, most recently, just fade away into Rock 'n Roll heaven. But when you get on stage, you are presented with musicians who are just as big a fan as you are and just want to play their music.
From the snowbound Japanese mountain village of Tokamachi comes Akio Sakurai, who, as a teen, fell in love with the music of Led Zeppelin and, specifically, the guitar chops of Jimmy Page. For the next 35 years, Akio would not only emulate the great guitar legend but recreate everything about him, right down to the evolution of his playing style from year to year.
Filmmaker Peter Michael Dowd takes on the task of following Sakurai's performance as Mr. Jimmy in Japan to his eventual move to Los Angeles, joining the tribute band Led Zeppagain. The first half of the documentary goes over Akio's transformation into Jimmy Page, starting with a meticulous discussion of Page's flowered bolero shirt, then to fine-tuning his amp and guitar, to finally honing Page's on-stage performance style. Sakurai believed that to capture the magic of Page's sound, he had to employ the exact instruments, amps, and wires that Jimmy Page used precisely. He often struggles with wanting to be perfect and not merely good enough.
Eventually, as Mr. Jimmy, Akio's dream would come true when his god, Jimmy Page, comes to see him perform at a local bar. After Mr. Jimmy's two-hour performance, Page would give him a standing ovation, stare right at his fingers, and marvel at the man who was becoming him. Akio would receive a subtle stamp of approval.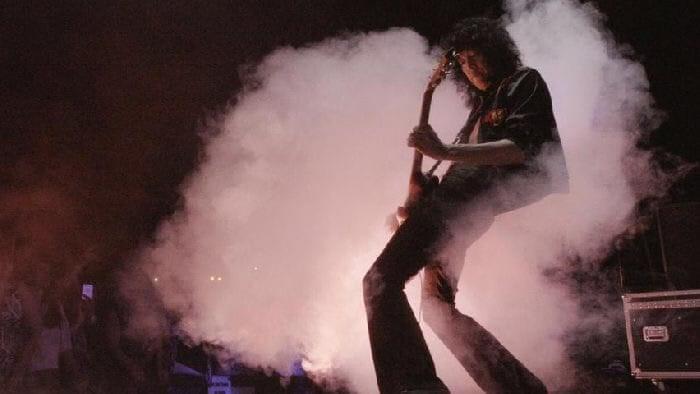 "…Akio would not only emulate the great guitar legend but recreate everything about him…"
The film's second half covers Mr. Jimmy's Los Angeles career. Akio would leave his family and join the tribute band, Led Zeppagain and tour across the country. But Akio's demands that the group take Zeppelin's music seriously. He felt it was one thing to play the music, but it was another to recreate their sound. His perfectionistic attitude rubbed some of the members the wrong way. His passion drove him to take over the group, ultimately leading to the firing of the band's drummer.
Akio would eventually become unhappy just being a tribute band playing random songs like a jukebox. He would soon quit and form his own band and attempt to recreate Zeppelin's The Fourth Night concert directly from the original band's famous movie. But would crowds want to see this very specific performance, or did they just want to hear the hits?
Director Dowd portrays Akio Sakurai as a musical savant who is too far ahead of the curve and surrounded by musicians that didn't share his level of passion. There's no denying Akio's talent as a musician. But rather than be a creator of music, he becomes a re-creator of music that already exists. Akio spends so much time re-creating Page's look, sound, and performance; it makes you wonder if the real Jimmy Page spent that much time creating the brilliant sound in the first place.
The documentary also raises the issue that what Akio is doing appeals to a very small niche of rock fans devoted to the original Led Zeppelin. Akio's happiness also lies in the fact that he's performing exactly like Page, and when his fellow bandmates just want to play the hits, he alienates himself from others. Lastly, there's a sense of futility trying to be a perfect clone of your hero because, quite frankly, that version already exists and is already perfect. See, there's only one Jimmy Page.
You'll like Dowd's documentary Mr. Jimmy if you're a fan of Led Zeppelin. You will see and hear a man who looks and sounds like Jimmy Page. The main problem with the documentary is its two-hour run time. It's way too long, and it's not the concert footage that drags it out. Akio's precise approach to Zeppelin is explored in great detail, and that drags. I like Mr. Jimmy solely because of his fascinating character study of an obsessed fan, Akio Surakai.
Mr. Jimmy screened at the 2019 SXSW Film Festival.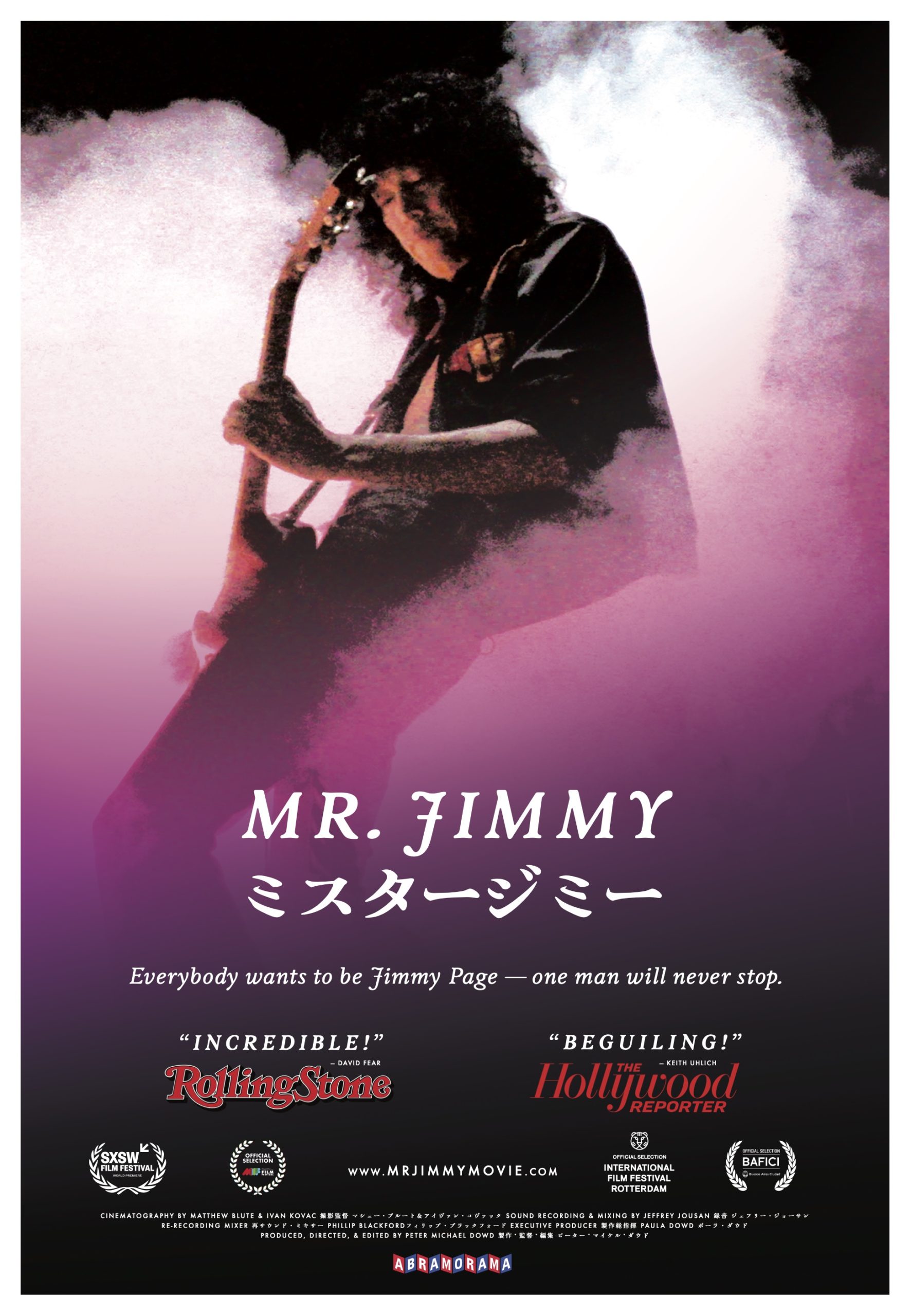 "…happiness also lies in the fact that he's performing exactly like Page..."