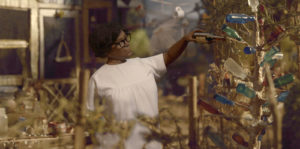 The choice of black and white for the stop motion scenes throughout This World Is Not My Own is initially confounding, as Rowe's work is so colorful. But, Ringbom and Stillwell establish how mass communication in Rowe's time was delivered through black and white televisions. This makes the monochrome aesthetic make sense, as worldwide importance to Rowe had always been presented without color. Furthermore, it gives the effect of a Rankin and Bass holiday special, which are some of the finest effects anywhere.
The animation representing Rowe's drawings is cleverly done, with details overlaid one piece at a time until the whole work comes together. This allows all the tiny aspects that would be initially lost at first to be appreciated as Rowe's works aim to overwhelm. I was surprised by how ahead of her time she was, as she could have easily rampaged through the Soho scene in the 80s. Rowe could be seen as the modern American Hieronymus Bosch.
"…excellent…"
While an excellent portrait of an artist, This World Is Not My Own is vulnerable to tangents, like a stoner is vulnerable to Cheetos. There are many times we leave the artist to focus on another sector in the world of Atlanta. Writers Ringbom and Ruchi Mital want to ensure the audience understands the societal conditions that Rowe's artistic output was a reaction to. I understand that it takes a village to raze a childhood. The impact the Atlanta race riots had on Rowe as a little girl cannot be underestimated. However, the obsessive spinning off onto more chapters of Atlanta lore once a new face crop up gets exhausting. By trying to ensure context is solidified, Rowe starts to fade into the background underneath all the city's buildings.
Once again, I appreciate Ringborn and Stillwell incorporating the crippling landscape Rowe ascended from with her art. However, to paraphrase Rosalind Russell in Gypsy, Atlanta is not the center of the universe. Atlanta is the center of Atlanta. One very welcome tangent involves Thunderbolt Patterson. He is a seminal figure in history who is nowhere near as famous as he deserves to be. The special warmth of Aduba's voice work glows red hot when Rowe talks about Patterson. The joy he brings Rowe is reciprocated when he finds out he's been immortalized in her artwork. Seeing the now elderly Patterson at a gallery show looking at himself in Rowe's art will make me so happy.
Despite some meandering, This World Is Not My Own is an engaging story of a strong woman with a clear vision. The animation works wonders to bring the subject's views to life. Come visit Rowe's world and take a rest from the everyday horrors of the real one.
This World Is Not My Own screened at the 2023 SXSW Film Festival.
"…visit Rowe's world and take a rest from the everyday horrors..."