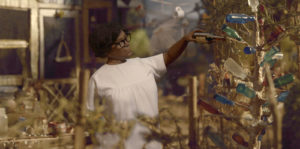 SXSW FILM FESTIVAL 2023 REVIEW! Get set for a voyage through worlds unseen in directors Petter Ringbom and Marquise Stillwell's This World Is Not My Own. The vast documentary is about visionary folk artist Nellie Mae Rowe and features sequences where the artist, and her magic art house, are stop-motion animated. The resulting claymation effect is in black and white, and the traditional segments and the animation bring the artist's perception to life beautifully.
Rowe (voiced by Uzo Adu when animated) did intricate drawings of the fantasy world she went to in order to escape the horrors of being Black in the southern U.S.A. A recurring subject in her work is the first televised Black wrestler, Thunderbolt Patterson. The artist cheered him on obsessively when he appeared on TV. She also made unusual rag dolls as well as sculptures made from chewing gum. Rowe's house is covered in her art, making her imaginary wonderland more of a reality.
"Rowe's house is covered in her art, making her imaginary wonderland more of a reality."
Rowe's artwork came to prominence during the latter half of the 20th century in Atlanta. She was "discovered" in the 1070s by Judith Alexander (Amy Warren), the gallery owner who introduced Georgia to abstract art in the 50s. Alexander was the oddball daughter of the wealthy Atlanta attorney Henry Alexander. The World Is Not My Own touches on how Alexander's father was involved in the historic murder trial of Leo Frank, a Jewish man who was lynched after being accused of murdering a white girl. It also goes into all the ghastly events Rowe endured, from race riots as a child to the city's infamous child murders decades later. All the while, the audience is treated to Rowe's spectacular illustrations, lifting the perspective above the savage hatred swirling below.
Aduba's extraordinary voice work is the skeleton that allows the film to dance around. There are so many juxtaposed nuances in her delivery. She gives the subject a bluntness laced with fatigue, then runs veins of warmth and excitement under the surface like a hot spring.
"…visit Rowe's world and take a rest from the everyday horrors..."