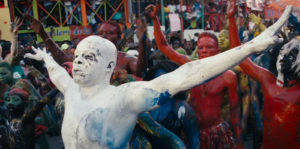 SXSW Film Festival 2023 REVIEW! Kite Zo A: Leave the Bones is not a dramatic feature, nor is it precisely a documentary… at least in the traditional sense. Director Kaveh Nabatian invites the viewer to witness an audiovisual explosion of Haitian music and dance, where Haitian Creole is the spoken word around the rebel heart of Haiti. The film focuses on rituals, old and new, expressed by dancers, musicians, fishermen, urban rollerbladers, and Voodoo priests. The spoken word is by Haitian author Wood-Jerry Gabriel.
The theme of spirituality and art colliding arises from the 1791 Haitian revolution. In August of 1791, a Vodou (voodoo) ritual in Bois-Caïman sparked an uprising against French Colonial rule. Its success established Haiti as the world's first Black independent republic. Since this event, artistic and religious expression have been a foundational part of Haitian culture, celebrating resistance and resilience in the face of tyranny, poverty, and the disasters like the earthquakes that decimated the country. Many of the rituals honor Dutty Boukman, an early leader of the revolution. Born in Senegambia, he was enslaved and taken to Jamaica and eventually to Haiti, where he became the leader of a freedom-fighting group of escaped slaves and a Voodoo priest.
Throughout Kite Zo A: Leave the Bones, Nabatian shows the beauty of Haiti. That seems like a natural choice when showcasing one's country, but we all know Haiti is on fire. Nearly a quarter million children are malnourished. Gangs of highwaymen control the roads and have become a de-facto sub-government in the streets. Floods and soil erosion are widespread due to deforestation. People displaced by various disasters are exposed to a heightened risk of many infectious diseases, including Covid-19. Clean water is hard to find. Illiteracy is rampant. The President, Jovenel Moïse, was assassinated in July 2021, and a 7.2 magnitude earthquake in August of the same year deepened political instability and gang violence.
"…an audiovisual explosion of Haitian music and dance…"
Amid this madness, Nabatian has made a beautiful film that is an act of faith and love for a country and its people. He shows us gorgeous beaches, jungles, and a glowing city at night, telling the story of Haiti with motion. Watching rollerbladers take to city streets at night in death (and traffic) defying acts of high-speed freedom is exhilarating, as well as nerve-wracking. One section follows a teacher preparing for Carnival with brilliant, elaborate costumes and make-up. In fact, scenes of parades from Carnival become a flowing expression of pure joy and a rare escape from the daily horrors.
The film accompanies an album also called Leave the Bones by Lakou Mizik and Joseph Ray. As described on the film's website: "Through Voodoo chants, chest-pounding Rara dance tunes and contemporary protest songs, the record conveys the listener to Haiti's spiritual heart, a place that remains a compelling mystery for foreigners and a source of pride for every Haitian." The film assaults the senses with dances set to the rhythms of Mizik and Ray. The filmmaker shows these elegant dancers in their splendid glory, expressing themselves through movement in time with the beat.
To live in Haiti is an act of rebellion against entropy, cultural decay, natural disasters, and human failings. In Kite Zo A: Leave the Bones, Nabatian paints a hopeful picture of where the fiercely irrepressible Haitian people came from and, more importantly, what they could be.
Kite Zo A: Leave the Bones screened at the 2023 SXSW Film Festival.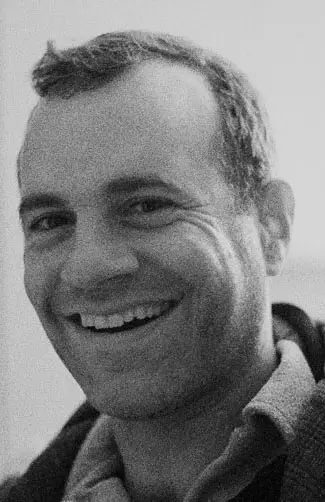 "…Nabatian paints a hopeful picture..."