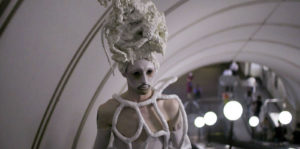 SXSW FILM FESTIVAL 2023 REVIEW! Directed by Agniia Galdanova, Queendom gets to the point quickly. Gena Marvin is a performance artist whose provocative works put her under constant scrutiny by the Russian government. In addition, her outlandish way of dressing puts the performer in the crosshairs of average citizens. Although sometimes, people are not ostracizing Marvin, she's just dressed inappropriately.
Take the beginning of the documentary, for instance. Marvin is out grocery shopping, and a couple of workers from the store (could be managers or security, not entirely sure) ask that she follows them right away to check out what she's already chosen. The artist feels this discrimination is due to her LGBTQIA+ status and political stance. The grocers state it is because Marvin is dressed in what amount to lingerie and nothing else. The thing is, they're right. She is not dressed in a manner befitting a place rife with children, no matter how she identifies.
Unfortunately, this awkwardness does take some time for Queendom to get over. However, once it does, and real prejudice and life-or-death stakes enter the picture, Galdanova clearly shows empathy for her subject. For example, Marvin wants to go into the park for a photo shoot and gets the run around from several employees. Ostensibly, they are saying due to a different event there, it is not safe for Marvin. But the real reason is apparent to all watching as well as Marvin: because of who she is and what she represents, government employees do not want her around.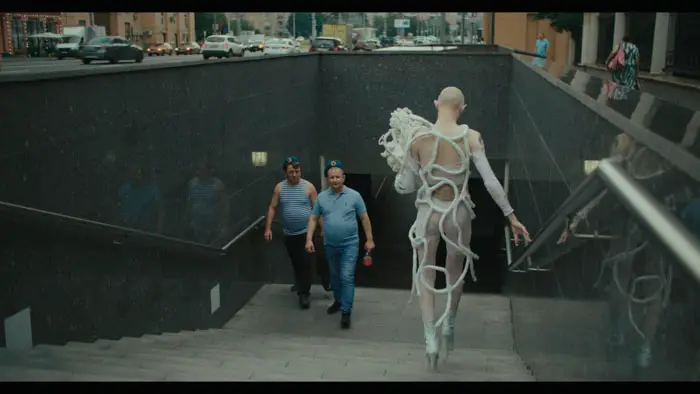 "…a performance artist whose provocative works put her under constant scrutiny by the Russian government."
Throughout it all, Galdanova simply observes. There's no flash to the filmmaking; even the pieces Marvin performs on screen are shot matter-of-factly. However, this is not a bad thing. Oftentimes, observational documentaries lack even the most basic and necessary information to allow audiences even an iota of an idea of what's happening (naming the country or region the action takes place in only helps matters). Thankfully, that is not the case here. The filmmaker establishes Marvin's desires, family, and grave predicament just by watching the subject do her thing.
Plus, aside from the grocery store bit, the pacing is remarkable. The stakes grow ever more intense. A political demonstration Marvin attends gets out of hand, and eventually, she's left with an unthinkable choice. Obviously, no spoilers, but the ending is shockingly effective and has real weight for so many people. It's touching, sad, sweet, a little bittersweet, and yet hopeful.
Queendom is an engaging little affair about something that affects thousands upon thousands of people worldwide. Unfortunately, not every government or society wants its citizens to be able to express themselves freely. By focusing so intently on Gena Marvin, Galdanova puts a face and personality onto a large problem. That Marvin is a fascinating subject in her own right is just icing on the cake.
Queendom screened at the 2023 SXSW Film Festival.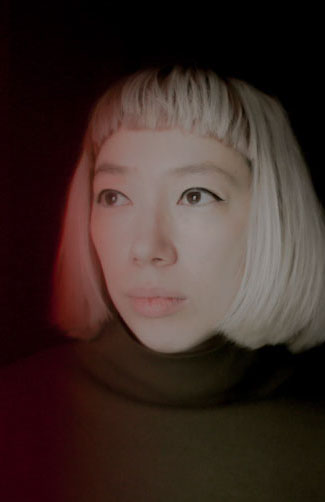 "…an engaging little affair..."