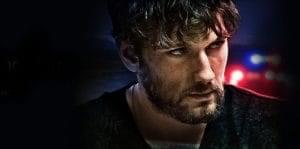 A road trip movie, of sorts, The Strange Ones follows Nick (Alex Pettyfer) and Sam (James Freedson-Jackson) as they hop from place to place, trying to stay under the radar. Then their car breaks down near a small town, and they hole up in a hotel for a few days, waiting for it to be fixed. The movie then follows them getting to know the people in the town and the complications that crop up because Sam tells everyone Nick is a liar. Nick tries to do damage control from a distance, as the layers of why they are on the lam are revealed.
Most of the movie is excellent, though two scenes, in particular, meander a bit. Sam's first substantial conversation with Kelly (Emily Althaus), the hotel employee, goes on well past the point of the scene, to where it seems odd she doesn't sense things are off. The other is when Sam and Sarah (Olivia Wang) are discussing what the cops wanted with her and what she told them about Sam and Nick. While that sounds like relevant information, the heart of the moment is about their classmates and a revelation that comes from what they think about these two friends. The rest is a rehash of information the viewer has already gleaned. These are small issues overall, as the characters are interesting and the last five to six minutes are enthralling.
"…forces the audience to think through everything they saw."
A twist, reveal, shock or surprise ending can enhance the viewing experience of a movie, especially when it is not only memorable but adds depth to the characters and encapsulates the themes without sacrificing story elements. On the rare occasion, the twist ties everything in the movie together and gives it a purpose that was not evident until the finale. First-time feature-length co-writers and co-directors Christopher Radcliff and Lauren Wolkstein have crafted a slow burn drama, which forces the audience to think through everything they saw once the conclusion unfolds. The two writers had a clear idea of where they wanted all the characters to wind up at the end, and this translates into well defined and engaging roles. Each person feels fully formed and genuine, which preserves the drama's authenticity.