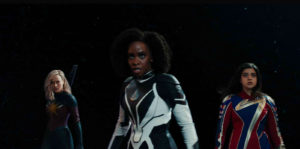 NOW IN THEATERS! Ironically, The Marvels is about as fun as a cat and a laser pointer (which appears in the movie). You'll chase the story only for so long before you realize there's nothing there.
Our tale opens with the Kree leader Dar-Benn (Zawe Ashton) searching for a powerful wrist gauntlet, which happens to match the design of teen superhero Kamala Kahn's (Iman Vellani), a.k.a. Ms Marvel's bangle…more on her later. Paired with Dar-Benn's "Universal Weapon," the bangle gives Dar-Benn great power…almost on par with Captain Marvel herself, Carol Danvers (Brie Larson).
Dar-Benn plans to use her newfound powers to destroy the planet where the exiled Skrulls now live. Under the guise of a potential peace treaty, Dar-Benn instead uses her new powers to create a "jump point" between the Skrull planet and the Kree planet Hala, where Dar-Benn is able to steal the planet's atmosphere and restore Hala's dying ecosystem.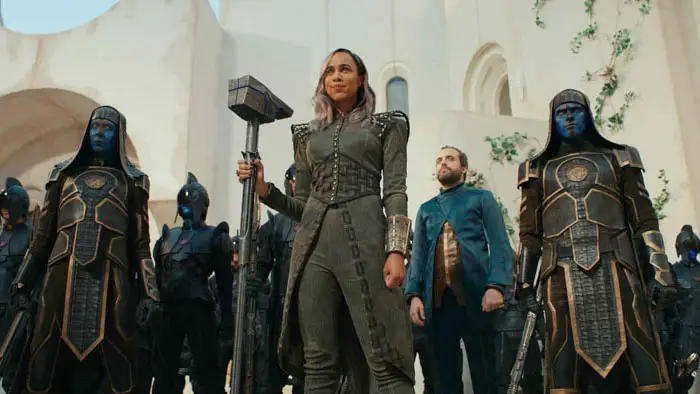 "…Dar-Benn is able to steal the planet's atmosphere and restore Hala's dying ecosystem."
Any of this make sense? You'll need to watch Guardians of the Galaxy, Captain Marvel, and the Ms. Marvel television series to understand anything. It also helps to watch Wandavision while you're at it.
Meanwhile, back on earth, Kamala Kahn is dreaming about one day teaming up with her hero Captain Marvel. Monica Rambo (Teyonah Parris) is on the SABRE space station with Nick Fury (Samuel L. Jackson) investigating a space anomaly (jump point) and Carol Danvers is requested to investigate the jump point on the other side. It's here that Carol discovers Dar-Benn's sinister plan, but then we discover that Dar-Benn's powers have tied Kamala, Monica, and Carol's light-based powers together, causing them to swap places whenever they use it at the same time.
It's up to the Marvels to figure out Dar-Benn's ultimate plan, retrieve the bangle that she found, and learn to work as a team that respects and lifts one another up under the bond of "girl power."