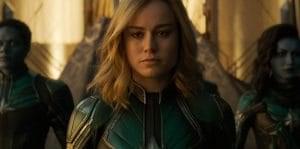 Okay, I have to admit two things before we go any further with this review of Marvel's latest film, Captain Marvel. Both of these will be controversial for different reasons:
1. I have not read the comics…and not just the Captain Marvel comics….none of the Marvel comics. Please go ahead and go into a blind rage, I'll wait. This doesn't mean I haven't thoroughly enjoyed the MCU because I have. Starting with Iron Man, I have seen every one of the movies that make up The Avengers universe. I'll admit that the reason I watched Iron Man, to begin with, was because of Robert Downey Jr. and the reason I kept watching the films is that I have a lot of friends (and a boyfriend) who are comic book nerds…uh I mean…fans.
2. I had a really hard time imagining Brie Larson pulling off a superhero. Not because I don't love her, I've enjoyed her performances ever since I saw her playing Kate Gregson on United States of Tara….and Room? Sheer brilliance! I just couldn't imagine her as AN AVENGER! However, if you would have told me in the year 2006 that Robert Downey Jr. would be most well known around the world for playing a comic book character and not for his role as Wayne Gale in Natural Born Killers—or that Chris Evans would get famous as all hell for playing a different superhero than Johnny Storm…I would have laughed at you.