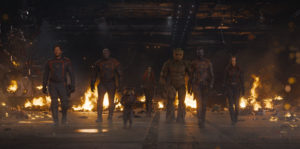 It's finally here. The last good Marvel movie that we're gonna get for a very long time. James Gunn's Guardians of the Galaxy: Volume 3 is almost the middle finger to Marvel for firing his a*s as he jumps ship to his new job overseeing the competition.
Our story opens in the celestial head of Knowhere, which is the new headquarters of the Guardians of the Galaxy. Our heroes are putting the finishing touches on their permanent planet home, and everyone appears to do fine. That is except for Peter Quill (Chris Pratt), who is a lost soul, a shell of the man he once was, owing to Gamora (Zoe Saldana) and her return as a major "dick." Just as all of our feelings are restored for the return of the Guardians, a singular figure, Adam Warlock (Will Poulter), infiltrates Knowhere with the task of kidnapping Rocket (Bradley Cooper) and returning him to his creator, the High Evolutionary (Chukwudi Iwuji). The Guardians are able to defeat Warlock barely, but Rocket is in critical condition.
"…Rocket has only several hours to live unless they unlock the security feature the High Evolutionary placed…"
Now Rocket has only several hours to live unless they unlock the security feature the High Evolutionary placed on Rocket's heart, thus making it impossible to give him any medical attention. Quill, Groot (Vin Diesel), Nebula (Karen Gillan), Drax (Dave Bautista), Mantis (Pom Klementieff), and Kraglin (Sean Gunn) head to the High Evolutionary's corporate headquarters to steal the security code, knowing full well that the High Evolutionary is expecting them. We learn that he has been experimenting on animals, hoping to create the perfect creature to populate planets as he serves as their god. Aiding the stealth mission for the code is Gamora, now one of the leaders of Quill's old gang, the Ravagers.
Guardians of the Galaxy: Volume 3 is a great sendoff for our intrepid heroes. It should be no secret that this is the last film for the Guardians as it currently stands. I highly recommend this final chapter, but there are some flaws. Running at two-and-a-half hours, this is dense. There's a lot of story, from genetic mutations, human trafficking, animal lab testing, and birthing new plants. Now add Adam Warlock and the origins of Rocket. It is too much plotting and feels rushed from start to finish.
The mission to get the code and defeat the High Evolutionary goes on forever. It feels like it's half the movie. There are at least five or six endings to the final act. During the rescue mission, the Guardians are split up, the villains do their things, and what are Adam Warlock's motives? Again, you may get whiplash trying to keep track of all this. Can I also say the soundtrack was not as cool as I had hoped?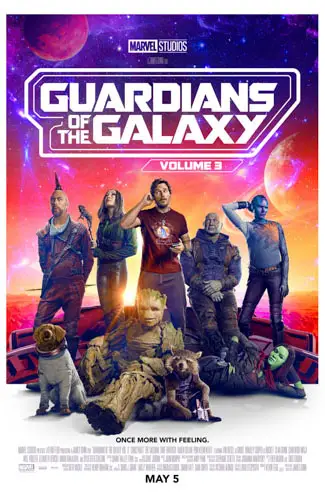 "…the loving final chapter for our intrepid heroes..."