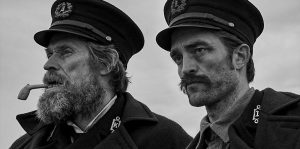 As for just how these two men impact each other on an island encircled by a ring of fog, it can't be so easily explained. There is a mystery afoot, but it's the least interesting part of the movie. All the woo-woo surrounding Winslow and Wink never demand your attention as much as the men themselves, especially when together. You're unlikely to see two better performances this year. Dafoe's Wink is anything but a caricature because Wink doesn't see himself as a caricature. He's dignified, terrifying, and often funny—as real as they come. When he quits drinking for just long enough and vomits a monologue of biblical proportions that may or may not be double-talk, you lean in and listen, just like Winslow does.
"You're unlikely to see two better performances this year."
The scenes inside the lighthouse where Wink and Winslow exhaust every flavor of conversation that two men could possibly have when alone together—reminiscence, women, regret, ranting, self-pity, posturing—are of a Goldilocks variety. Most movies are either overwritten to draw attention to their ideas or the writers themselves clumsily or are underwritten, in a clumsy effort to avoid the former problem. As is done with the Wake character, Eggers' screenplay–co-written with Max Eggers–manages to create a heightened sense of reality that remains accessible from the ground floor.
Wash this all in a nightmarish black and white and set it against a perversion of one of those paintings you see in kitschy seafood restaurants. The Lighthouse becomes something that few movies can claim to be: memorable. Detractors might shrug it off as self-indulgent, artsy slop, but it's too damn fun and aesthetics-minded for that accusation to hold much weight. It's a cinematic sea shanty, made of equal parts joviality and menace, slurring every word.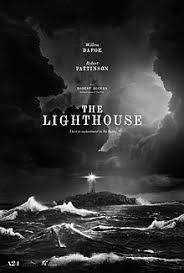 "…his gut is knowingly designed by nature to catch crumbs and ashes."