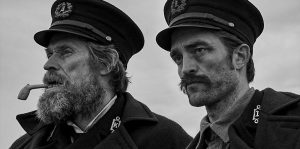 If Satan was the antagonist of Robert Eggers' first movie, The Witch, then God might be the antagonist of his second movie, The Lighthouse. Even though the setting and the tight aspect ratio suggests claustrophobia, that's not what's at work here. The burden at play is the carrying of an increasing amount of weight. The worst part is that when you buckle underneath it, you're unsure whether it was your own weakness that did you in or a supernatural force that stuck its leg out as you hobbled by.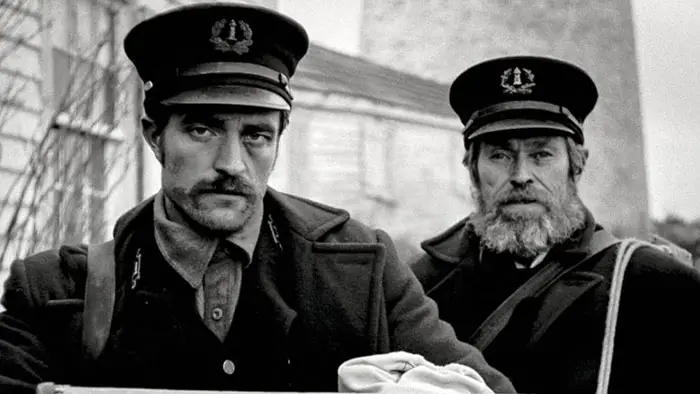 "Wink and Winslow exhaust every flavor of conversation that two men could possibly have when alone together…"
Willem Dafoe and Robert Pattinson share the weight of the movie between them, each taking an end. The latter, who seems to only be in great or interestingly bad movies these days, is Winslow, the kind of man who's made a living—or something like it—on the jobs other people don't want to do. He doesn't want to do them, either, but his skillset leaves him little choice. He's keenly aware of the disadvantages of staying in one place for too long. When we find him, it's his first day as a lighthouse keeper, apprenticing with Dafoe's character, Wake. Wake is every salty sea captain cliché wrapped up in a bony package—you can probably find him right now in the frozen food aisle of your grocery store. He has a bad limp, a weathered face, a weakness for drink, smokes a pipe, takes pride in his farts, and speaks in an ecclesiastical sort of way, using words like "ye" and "art." His gut is knowingly designed by nature to catch crumbs and ashes.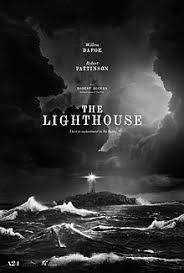 "…his gut is knowingly designed by nature to catch crumbs and ashes."