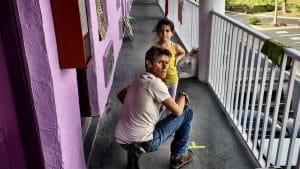 (Reviewer's note: I caught The Florida Project as part of the 2017 New Orleans Film Festival's opening night event. The 28th edition of the fest featured a wide range of movies from a diverse selection of filmmakers, with over 230 + stories on display. It was a wonderful night at The Orpheum, seeing Sean Baker's latest with friends and colleagues like Courtney Young and Chris Henson #TeamNOLAFilm!)
Towards the middle of Sean Baker's sophomore effort The Florida Project, a disturbing and disappointing revelation is made. Wild child young mother Halley, living in a no tell style motel on the outskirts of Disney World, is taking a series of selfies in her room / home, scantily and scandalously clad. Her misadventurous scrappy daughter Moonee joins in, wearing a bathing suit and dancing to rap music, sharing in what to her is a fun family moment. In fact, Halley is selling her image and, if things "work out", her body too. The depravity would be too much to take if it weren't so honest or even so cheerful. Bless Moonee and her wonderful imagination.
"…magic in the real."
Coming off of Tangerine, an X-Mas movie that'd make John Waters smile, Sean Baker approaches The Florida Project with a similar take in mind. To dismantle and realign notions of commercial and cultural happiness, and break them down to their fundamental human roots. Before, it was holiday season in West Hollywood. Here, it's an out of reach Disney World and the denizens living in its shadow. People not scrimping and saving for vacation (though they do live in a motel), but rather to simply survive and get along in America. The state of affairs is all too real, with a rotating landscape of fast food joints, department stores and other off interstate exit businesses making up the surrounding environment. There's no escape from what you can't or can barely afford, it seems.
A classic of true empathy, the movie depicts one summer in the life of Moonee and her friends, who cause all sorts of chaos and shenanigans across the properties on which they live. Managing Moone's home, The Magic Castle, is one Willem Dafoe, playing up the fatherly type with grace and vigor. Reminding me of Michael Cane in The Cider House Rules, Dafoe's bittersweet go lucky head of management is all heart and soul, giving as much leeway as he can to the residents he looks after. His finest moment may have been when he tells off a potential child predator, but I enjoyed his softer scenes, like when after restoring power to the building, he walks away smiling and waving to everyone. Dafoe is the zen figure in a world of economical trauma.
"…profound and deafening."
The kids of The Florida Project really do take the cake here, being as boisterous and perky as you'd expect no good nicks to be. They drip ice cream from their hands to the floor. They spit on windshields and break furniture. For them, toys and playsets are the leftovers and table scraps of other people's temporary hopes and dreams, which they are thankful to have. Moonee, played by the energetic and unforgettable Brooklynn Prince, may run around as if the neighborhood is hers, but never does she do so with a cocky strut. There is a wisdom for reading people and places between her eyes, that fills her gaze with joy and wonder, sure, but also some humility. She acts out, but never in anger towards those she loves and understands.
When the movie resolves to its inevitable conclusion, the heartbreak is profound and deafening, shattering the beautiful facade that covers this impoverished community. It occurs with a snap, but not before a momentary and metaphorical glimpse of what possibly lies ahead for Moonee. As I was, hopefully you'll be left jaw dropped and eyes watered. The Florida Project is magic in the real.
The Florida Project (2017) Directed by Sean Baker / Written by Chris Bergoch & Sean Baker / Starring Willem Dafoe, Brooklynn Kimberly Prince, Bria Vinaite.
5 out of 5