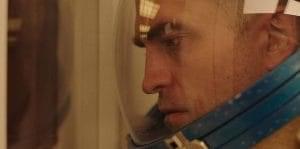 There is a hell of a lot of masturbation in Claire Denis' latest film, High Life, and that's as good a metaphor as any for the film.  High Life is intellectual masturbation — devoid of human engagement, just sad in the gulf between the fantasy and reality.
High Life it is in a way transcendent.  It has broken through to a new kind of awful that was previously inaccessible to humanity.  Never before has a director taken the raw materials of extensive murder, rape, and animal cruelty, a Harry Potter and Twilight heartthrob (Robert Pattinson), an extraordinary musician (Andre Benjamin, aka Andre 3000), one of the world's finest actresses (Juliette Binoche), added in black holes, and yet made something from it as engrossing a coma and as comprehensible as senility.
The movie begins with Monte (Pattinson) working on the exterior of a spaceship, over the cries from a baby monitor. It seems he and this infant are the only survivors of this mysterious mission.  In time we piece together that a crew of criminals was sent out to extract energy from a black hole, and in flashbacks, we get the story of how, through a series of rapes and murders, we're left with only these two.  The ship has an unexplained feature — Pattinson has to interface with the computer using a chip in his finger every 24 hours in order to renew life support. In time we learn that the ship used to be run by Dibs (Juliette Binoche), a mad scientist so obsessed with sex and reproduction that she's willing to resort to rape and non-consensual artificial insemination to create a baby that won't die from radiation.