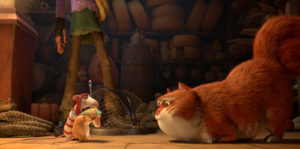 The direction is energetic and lively, matching the witty dialogue and goofy antics with fast-paced action and a jaunty atmosphere. A caged combat scene is exciting and dangerous, creating stakes beyond the disappearing food. When Keith and Malicia encounter the actual Pied Piper (Rob Brydon), it is both engaging and frenzied.
The animation throughout The Amazing Maurice is also quite good; better than expected, in fact. The film eschews the realistic textures and design of top-tier Pixar. Instead, this is a cartoon from the character designs to the art direction, and that is not a bad thing at all. There is a lot of detail in the animals' fur, and the characters' movements are smooth. Everyone looks distinct, while the color palette is bright and pleasing. The voice cast all deliver as well. Laurie is exceptional as Maurice, being charming, deceitful, and funny all at once. Tennant is great as Dangerous Beans, making it easy why the other rats would believe in paradise. Clarke is tremendous as Malicia, having a knack for comedy she hasn't gotten to display often.
"…quite good; better than expected…"
There are some issues present, though. Keith is a total non-entity. Maybe it's because Patel is not especially charismatic (or at least, his voice acting is not). Perhaps because the character is intentionally written to be very meek and seemingly one-dimensional. Yes, he eventually gets to prove himself but even still, aside from being a great flute player, there's nothing to him. Plus, there are so many rodents in the clan that only a few of them stand out. Not every single one needs a moment to shine, but only four of them do anything of note throughout the story.
The Amazing Maurice has a few characterization issues, and its specific style of humor (which is on brand for Pratchett) will not appeal to everyone. Still, most of the cast is excellent, and the writing is very clever. Couple those elements with the fun, cartoony animation, and one gets a pleasing little family film that, thankfully, does not fit into a specific mold.
The Amazing Maurice screened at the 2023 Sundance Film Festival.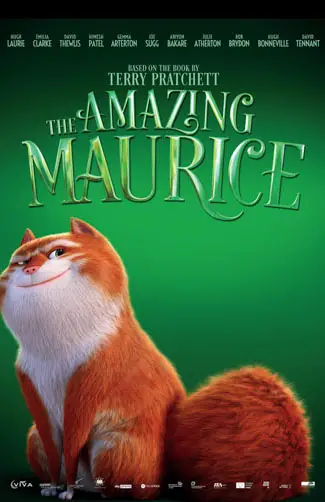 "…does not fit into a specific mold."