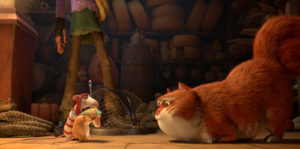 SUNDANCE FILM FESTIVAL 2023 MOVIE REVIEW! Terry Pratchett was the best-selling author for the entire decade of the 1990s in the United Kingdom. The writer focused on absurd, humorous fantasy tales, with his beloved Discworld series having 41 books to its name. And that brings us to The Amazing Maurice. Directed by Toby Genkel and Florian Westermann, this animated, meta fairytale, written by Terry Rossio, Robert Chandel, and Toby Genkel, is based upon Pratchett's first Discworld book for kids, the award-winning The Amazing Maurice And His Educated Rodents. Do the filmmakers successfully bring the zany shenanigans to life, or is the film less than magical?
Maurice (Hugh Laurie) is a cat who has acquired the ability for higher-level thinking and speech. As fate would have it, a clan of rats has also gained these unique traits. Through their spiritual leader, Dangerous Beans (David Tennant), the rodents have come to believe that there is a special paradise where rats, and other animals, can live in peace, away from easily scared and dangerous humans. So Maurice concocts a scheme with the clan to gain money for a boat so they can sail away to this fabled land.
"…uncover that the rat catchers are working for the sinister Boss Man…"
Said scam involves using the highly impressive flute skills of Keith (Hamish Patel), a sweet but naive human who poses as The Pied Piper. This money scam goes well for a little bit, but something is amiss in the newest town this intrepid band ventures to. The citizens are distraught over a famine, though the rat catchers who live there seem to have captured every single one. Rats Peaches (Gemma Arterton), Sardines (Joe Sugg), and leader Darktan (Ariyon Bakare) investigate along with Maurice, Keith, and a hyper girl who believes everything can be connected to some trope from a book named Malicia (Emilia Clarke). They uncover that the rat catchers are working for the sinister Boss Man (David Thewlis). Can a group of talking rats and a smart, smug cat save everyone? Will they be able to reach their paradise?
It is no surprise that screenwriter extraordinaire Terry Rossio is behind The Amazing Maurice. As the man who brought Shrek and the Pirates Of The Caribbean franchise into the world, this action-packed, funny film fits right into his wheelhouse. Of course, there's always the risk of getting an On Stranger Tides or The Lone Ranger. Thankfully, that is not the case here. The screenplay is tightly wound, without an ounce of fat on it. The numerous fourth-wall-breaking jokes all land, as does the tense dynamic between the titular cat and the naive but well-meaning rats. The writers structure the story with a framing device that promptly explains the idea of a framing device. It is hilarious. Admittedly though, this style of comedy is not for everyone and can become burdensome when not used right (Shrek 4, anyone?). But Rossio, as well as Chandel and Genkel — both of whom are credited with "additional material" — keep things moving well.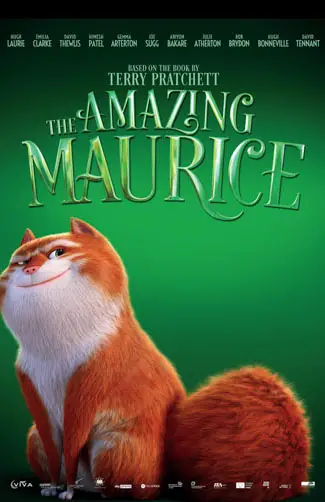 "…does not fit into a specific mold."