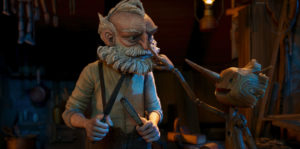 NOW ON NETFLIX! After years in development hell, Guillermo del Toro's Pinocchio finally finds its way to the screen. Directors Guillermo del Toro and Mark Gustafson take inspiration from Carlo Collodi's classic children's story but make certain changes. The screenplay, by del Toro and Patrick McHale, places the beloved characters in the center of World War II-era Italy. Told through very 1990s Tim Burton and Henry Selick-style stop-motion animation, this adaptation of Pinocchio is visually striking and dives deeper into the characters of Pinocchio, Geppetto, and a moral-talking cricket than ever before.
Geppetto (David Bradley) is a woodworker in a small town in Italy, poor in wealth but rich in life. He's always accompanied by his son Carlo (Gregory Mann). Narrated by Sebastian J. Cricket (Ewan McGregor), the film opens with a recounting of Geppetto's life before Pinocchio. The shadow of fascist Italy and Mussolini looms throughout the narrative when Carlo is taken from Geppetto in a bombing. Mourning the loss of his son, Geppetto loses himself in grief, seldomly leaving Carlo's graveside and crying out for his boy to return. In his sorrow, Geppetto crafts a wooden puppet, hoping to find joy in his life again.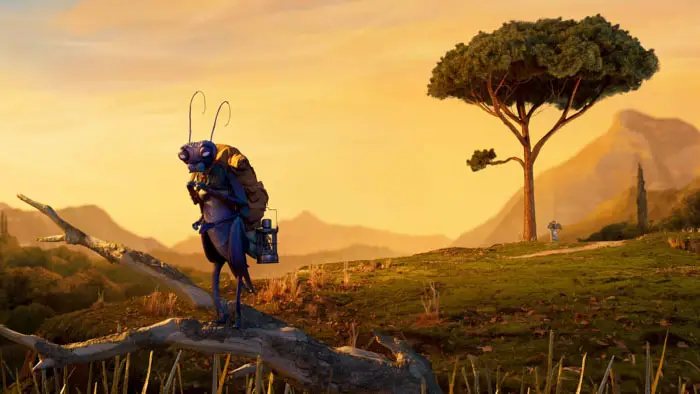 "After Geppetto builds Pinocchio, a Wood Sprite breathes life into the wooden boy…"
From the opening narrative of Geppetto's loss, directors del Toro and Gustafson establish this version of Pinocchio as an emotional journey. After Geppetto builds Pinocchio (also voiced by Mann), a Wood Sprite (Tilda Swinton) breathes life into the wooden boy, hoping to bring Geppetto joy and charging Sebastian J. Crickett with helping the boy become good. Christoph Waltz portrays a charismatic, washed-up showman, Count Volpe, who serves as Pinocchio's first temptation, promising a life of fame and sweets instead of following rules. However, Pinocchio's struggles do not end with Volpe, as he soon finds himself enlisted in a Fascist youth camp under the authority of the vigilant Mussolini supporter Podesta (Ron Pearlman).
Waltz speaks to the phenomenal casting. His delivery is devilishly magnetic and feels perfect for a once-great ringmaster. Mann brings a sense of joy and innocence to both Pinocchio and Carlo. McGregor is a meaningful narrator, adding some laughs to a story that's constantly balancing melancholy with hope. Yet the biggest highlight of the characters and voice acting is David Bradley's Geppetto. Every heartbreak or timid bit of joy is felt in his performance. This adds to the depths of the filmmakers' exploration of Geppetto. Bradley's emotions build a foundation for the character, beyond the mere creator of Pinocchio into a man learning to love again.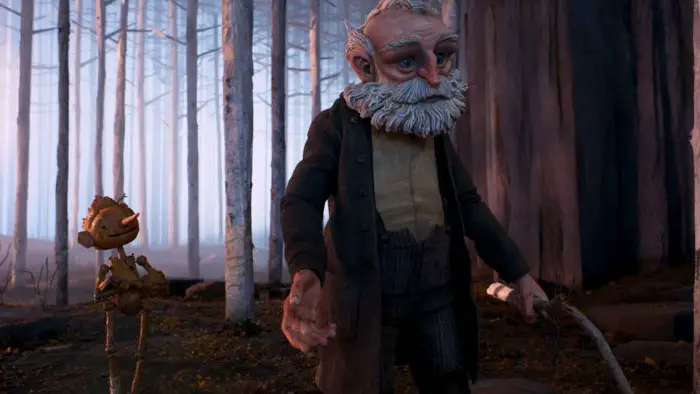 "…the best animated film this year."