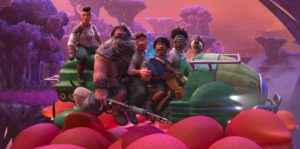 BARELY IN THEATERS! The worst crime of Strange World is that it's boring. I'm not too bothered by its attempt at checking off every diversity and inclusion box imaginable. The film, directed by Don Hall and Qui Nguyen, is simply dull and has strayed far off the path of story excellence that was once associated with Walt Disney Animation. I don't want to be cliche, but it's true; Walt is turning over in his grave.
Strange World is the story of three generations of the Clade family. The Clades are fearless and intrepid explorers and live in Avalonia, situated in a valley surrounded by an unconquerable mountain range. However, the elder Jaeger (Dennis Quaid) believes something is beyond the mountains, and he must find it. So he takes his son, Searcher (Jake Gyllenhall), along with his team, to boldly go where no one has gone before.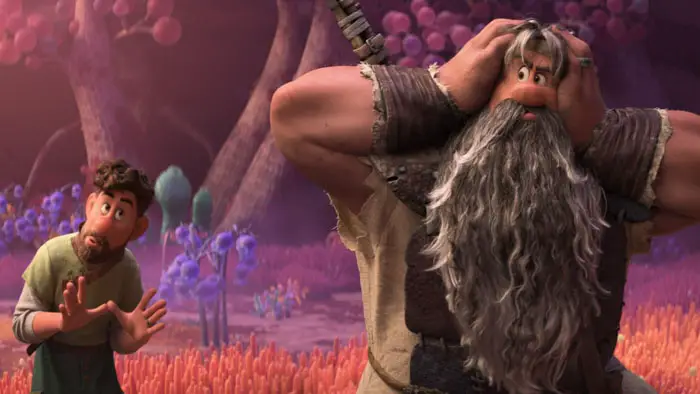 "Pando is dying from a strange disease, and Callisto calls upon Searcher…"
During the expedition, Searcher discovers a plant he names Pando. It emits an energy that can power all of Avalonia. Wanting to research Pando, Searcher and the expedition team abandons Jaeger, who is lost forever in the mountains. Now, twenty years later, Searcher is the talk of the town with the way he's harnessed the power of Pando and has turned it into a sustainable crop. Searcher hopes to pass on the family business to his son, Ethan (Jaboukie Young-White), but Ethan is becoming an explorer like the grandfather he never met. In addition, Ethan laments his struggle with his boyfriend, Diazo (Jonathan Melo).
Of course, there's a problem with the arrival of Avalonia's governor Callisto (Lucy Liu). Pando is dying from a strange disease, and Callisto calls upon Searcher to find the problem/cure for Pando. Searcher leaves his family behind, ostensibly for their safety. Of course, his wife Meridian (Gabrielle Union) and Ethan can't resist the adventure into the center of the earth. What are the odds that Jaeger plays into the story somehow?
Strange World is a movie that should work but falls flat. The world is supposed to be reminiscent of Jules Verne's Journey to the Center of the Earth. The first problem is this world looks weird and unlike anything we've ever seen. This means we can't relate to it. It's a pink world of bubble-like creatures with nary a sharp edge to feel sinister. Also, these creatures are supposed to be menacing, but we never see the threat. We assume they could kill you. In other words, we needed to see someone die. Yes, kids are allowed to be scared in a movie.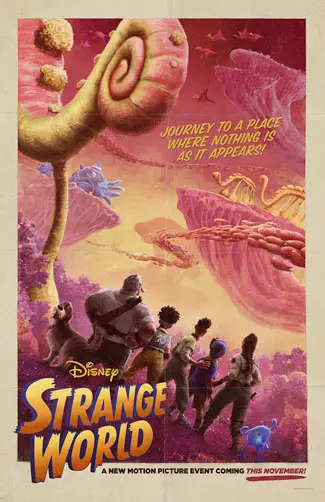 "…bland as hell and not entertaining in the slightest."