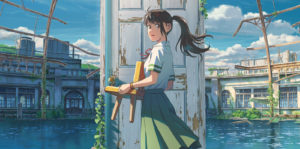 NOW IN THEATERS! Written and directed by Makoto Shinkai, known for his masterpieces Your Name and Weathering With You, Suzume tells the story of a young girl thrust into adventure. Suzume (Nanoka Hara, Nicole Sakura for the dubbed) lives a relatively normal life, attending school and spending time with friends. But when walking to school one day, she encounters a mysterious door to another world, "the ever after." After finding this gateway to the unknown, Suzume begins seeing the side-effects of this hidden world within the real world as massive natural disasters threaten her city. She soon realizes that only she and a select few "closers" can see these disasters for the supernatural events they are, catapulting her from a life of homework and school to a life of mystical discovery. The 17-year-old high school student lives with her aunt (Eri Fukatsu, Jennifer Sun Bell) after Suzume's mother's passing when she was just a child.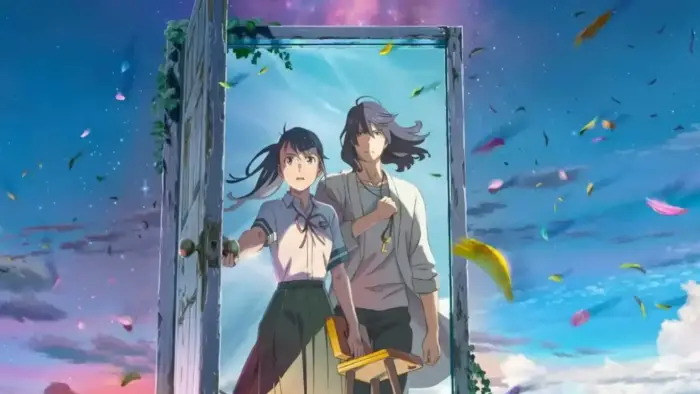 "…will cause havoc across Japan unless she can return the keystone and imprison it in the ever after."
After meeting Sota (Hokuto Matsumura, Josh Keaton) on her way to school, she follows him to discover an abandoned hotel with a door to another realm. When Suzume returns to school, the earth trembles, and she notices a massive red creature known as "the worm" appearing from the door she just left. After finding Sota attempting to seal the worm within the door, Suzume realizes that this beast will cause havoc across Japan unless she can return the keystone and imprison it in the ever after. Suzume and Sota come face-to-face with the keystone soon after the appearance of the worm. However, the stone has taken the form of a mischievous cat named, Daijin (Ann Yamane, Lena Josephine Marano), who refuses to return to its other state. Daijin's refusal even goes so far as to transform Sota into Suzume's childhood chair.
Suzume and a now-talking chair must travel across Japan in search of Daijin to return Sota to human form and stop the worm from destroying the land of the rising sun. While trying to catch up with Daijin, Suzume meets a local girl named Chika (Kotone Hanase, Rosalie Chiang), who helps her race toward the second gate. A karaoke bar owner Rumi (Sairi Ito, Amanda C. Miller), welcomes Suzume into her family during her travels. Finally, the title character meets Sota's schoolmate, Tomoya (Ryunosuke Kamiki, Joe Zieja), who becomes a traveling companion.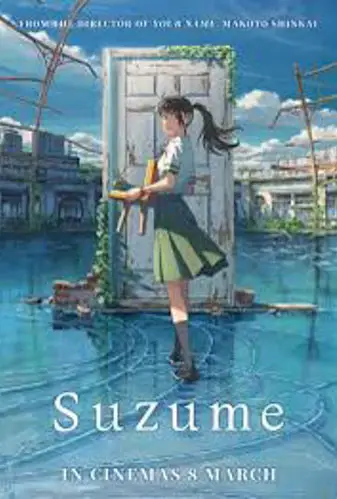 "…anime fans will love it."