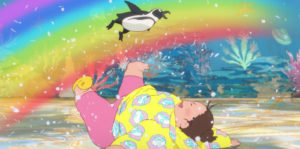 Distributor GKIDS has substantiated itself as the leader of sophisticated, indie, international (primarily Japanese) animation that doesn't talk down to children. Ayumu Watanabe's Fortune Favors Lady Nikuko is a worthy addition to the company's catalogue. Beneath some anime staples – goofy visual puns, heightened mannerisms, and exaggerated facial features – lies an incisive study of growing up with a single parent that touches upon a plethora of mature themes.
Likened to a "giant matryoshka," Nikuko (Shinobu Ôtake) certainly stands out in the crowd. She lives on a boat, is unapologetically loud, and snores like a mythical beast. Nikuko couldn't care less what people think of her imposing presence. "I am Lady Nikuko, and I love it," she proclaims. However, her puberty-stricken daughter, Kikuko (Cocomi), sure does care. She's well aware that Nikuko had a rough past, with men treating her like dirt and using her for money. "She wanted to stay clear of shady men," Kikuko narrates. Still, moms are moms, and they can be damn embarrassing.
The duo lives in a tranquil, borderline-utopian village. Nikuko runs a local eatery known as "The Meaty Lady" (a clever play on words here, as "Niku" means "meat"). The leisurely plotting of Fortune Favors Lady Nikuko follows Kikuko's tribulations at school. Among flaring resentments, she falls for an emo stud, Ninomiya (Natsuki Hanae), whose hair obscures his facial features and whose voice barely rises above a whisper. In the meantime, Nikuko makes the young girl's existence that much more difficult with her eccentric antics. Then truths about Kikuko's birth surface, putting everything in perspective.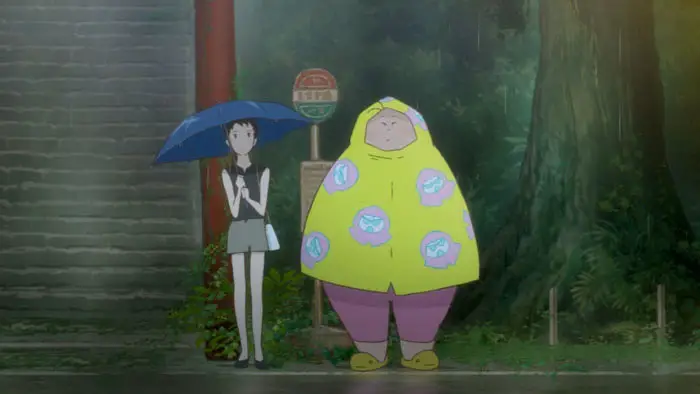 "…follows Kikuko's tribulations at school."
In contrast to the relative restraint with which every other character is portrayed, Nikuko is seen through her daughter's eyes: an overweight, obnoxious constant source of humiliation who swallows pancakes whole. At that age, most kids view their parents as exaggerated versions of themselves, and Watanabe brilliantly portrays this, painting Nikuko as a walking cataclysm. But then he subtly adds gentle warmth to her character until a final shot that poignantly sees past the caricature.
For the most part, the narrative is as tranquil as its setting, immersing the viewer into the everyday lives of its protagonists. There are no stupefying shocks or huge set-pieces. That being said, like the titular character, Watanabe's film possesses an unhinged side, sliding off the rails intermittently. Kikuko either imagines or actually hears animals around her speak. They often voice their opinions about the events unfurling. One such sequence involves Nikuko's favorite penguin, which feels like it's building to some big pay-off, but then just ends abruptly. Some scenes depicting Nikuko's quirkiness verge on distracting, so trippy they jar.
But when was the last time you've seen a kids' film that dealt with issues like parental abandonment or the fears and tribulations of adolescence? "I hope my chest never grows and my period never starts," Kikuko says. That is not a sentiment often expressed in Disney fare. Fortune Favors Lady Nikuko explores what it's like to be in the shadow of your parent, the lessons imparted by our elders, the value of a support system among women, the power of literature, the appreciation of food (frequently referred to as "yummy"), and the importance of staying true to yourself. Eat that, Pixar.