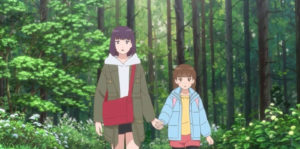 Like flowers through cracks in a sidewalk, prepare for magic to break through the crust of reality in Shin'ya Kawatsura's super lovely anime, The House of the Lost on the Cape. Based on Sachiko Kashiwaba's novel, with a screenplay by Reiko Yoshida, the feature opens with Hiyori (Sari Awano), a mute orphan girl, and Yui (Mana Ashida), a teen runaway wandering lost through the aftermath of an earthquake. When local authorities almost corner them at a food bank, a kind little old lady Kiwa (Shinobu Otake), claims to be their grandmother and rescues them.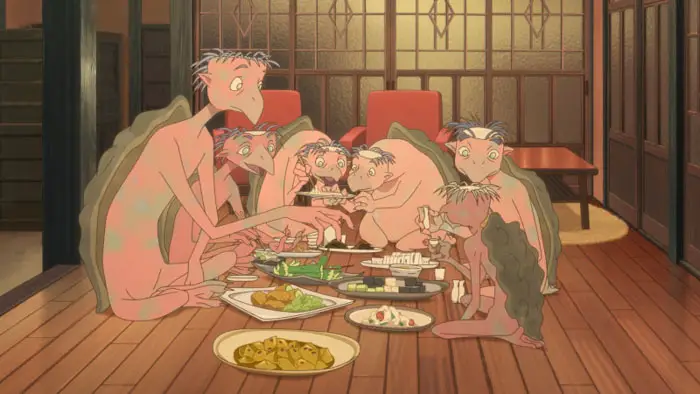 "…Kiwa announces that they will have some special guests for dinner…Kappas…"
Kiwa takes the two through the woods to a big old house built on top of cliffs by the sea. The girls are nervous at first as both have been through the wringer. Even the hot delicious food Kiwa feeds them is met with suspicion by Yui, who wonders if she is being fattened up to be eaten by a witch. To put them at ease, Kiwa tells the girls folk stories of the area. She talks about red-eyed serpents that were fought back into the sea. Soon the girls realize the house is a Mayoiga, a living being that thrives on being lived in.
Still living there with Kiwa, Yui and Hiyori start their normal lives in the remains of the town, with Hiyori going back to school and Yui doing a delivery service. One day Kiwa announces that they will have some special guests for dinner. Those guests turn out to be the kind mythical creatures known as the Kappas, including the ones from Kozuchigawa (Takuya Tasso), Toyosawagawa (Mikio Date), and Kitakamigawa (Takeshi Tomizawa). Kiwa reveals she socializes with the deities and fairies of folklore, who she refers to as enigmas. As the girls learn more about the magic that lurks under everyday life, they also learn that the red-eyed serpent of folklore is also on the rise, growing fat off of feeding on human grief.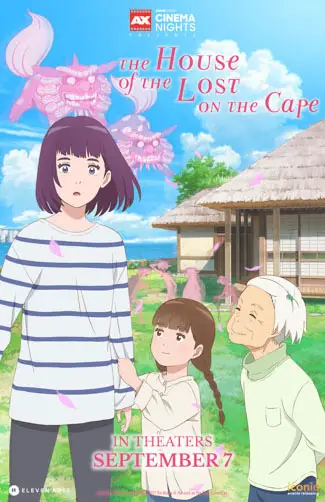 "…seven different shades of spellbinding, each shade more incredible than the last."