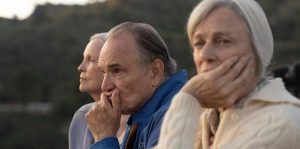 It's been said that there's no new story under the sun (or something like that). This implies that all the good stories have been told, and if true, then the key to retelling an old tale is to put a fresh spin. In Isadora Kosofsky and Kelly Blatz's Senior Love Triangle, they do just that by taking the love triangle angle and making the principals seniors. It's so crazy, it works.
Tom Bower plays the charismatic, yet delusional, World War II veteran William. He's just days away from retiring to a lush palatial estate in Jamaica. Willliam needs some cash for his agent friend to pay some legal fees. Fortunately, William has Adina (Anne Gee Byrd), a rich widow, who is more than willing to help him find happiness and gives him the cash he needs…for the umpteenth time. Soon, William gets the boot from the retirement home when Adina's son thinks he is with Adina only for her money.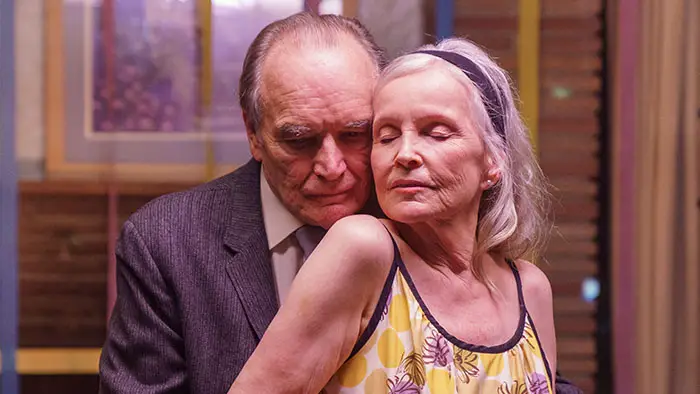 "William pledges to take both Adina and Jeanie with him to paradise."
Needing a place to live, William winds up in a new retirement home, where he meets Jeanie (Marlyn Mason). William is quite smitten with her, and the two become a couple after a night of passion. With the Jamaican mansion just "days" and another few hundred bucks away from completion, William pledges to take both Adina and Jeanie with him. The triangle is now in place.
I can't say enough about the incredible story of Senior Love Triangle. I love how fearless it is, a gem from start to finish. Kosofsky and Blatz's (love the sound of that pairing) opens the story beautifully with William and Adina obscured in shadows with a jazz casino soundtrack. William is on the phone with final plans for the deal. It works because you instantly understand who William and Adina are as individuals and a couple. As the story plays out, the layers are peeled off until you get to the heart of the characters. It's a sign of excellent writing.
Senior Love Triangle is also one of those "checklist" type movies that attempt to tick off every aspect of not just the love triangle but also of being a senior. Other films do this to educate us, but Kosofsky and Blatz bury it beneath the surface of the story, so you hardly know it's happening.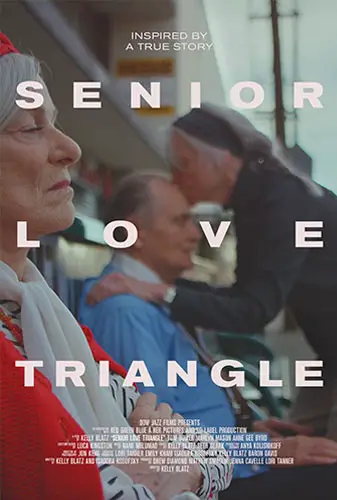 "…a crazy insane three-way that's unbelievably original."